Over 572 stories from a former criminal justice reporter at
New York Daily News
are currently under investigation after multiple sources appear to be "non-existent," including sources named in stories involving the shooting at the Orlando gay nightclub Pulse.
A damning report from investigative watchdog site
iMediaEthics.org
, suggests that reporter Kevin Deutsch referenced sources in several stories surrounding Pulse shooter, Omar Mateen, that just flat-out don't exist.
According to iMediaEthics, two stories written by Deutsch for
Newsday
about Pulse shooter Omar Mateen have major issues with sources.
In one Newsday article from June 12,
"Orlando shooting suspect showed signs of violence, reports say
," Deutsch quotes an Eric Baumer, who was supposedly one of Mateen's co-workers at a PGA property.
In Deutsch's story, Baumer reportedly said, "When I saw his picture on the news, I thought, of course, he did that," Baumer reportedly said. "He had bad things to say about everybody – blacks, Jews, gays, a lot of politicians, our soldiers. He had a lot of hate in him. He told me America destroyed Afghanistan."
The only problem, according iMedaEhtics, is no one by that name has ever worked at the company.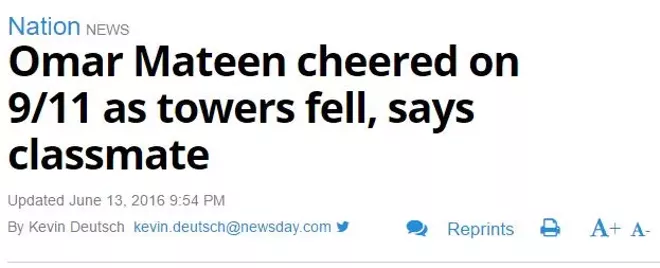 In another Newsday story under Deutsch's byline from June, "
Omar Mateen cheered on 9/11 as towers fell, says classmate
," it is stated that a childhood friend and classmate of Mateen, Aahil Khan, recalls the shooter telling him he was suspended for cheering after the attacks on Sept. 11.
Like the other story, there are no records of anyone by the name Aahil Khan attending any of the schools Mateen was previously enrolled in.
New York Daily News
editor-in-chief Arthur Browne confirmed to the site that they are currently investigating all 572 stories written by Deutsch while he was employed with the company.
Newsday
is also investigating his work.
Besides the
Daily News
and Newsday, Deutsch has also written for
The New York Times
,
The Miami Herald, The Palm Beach Post
and
The Riverdale Post.

Read the whole report at
iMediaEthics.org
.
Since publication, Deutsch has reached out to us with a comment:
For me, journalistic ethics are sacrosanct. They've remained so throughout my nearly fifteen-year criminal justice journalism career—a career I'm extremely proud of. To suggest that I would violate journalistic ethics in any sense is wrong. Journalism is my life. I stand behind every word I've written. I'm cooperating fully with reviews of my work. I'm eager to show all my stories have met the highest standards of journalistic ethics. No falsehoods have been found in my work. and there's not a shred of evidence to suggest I breached journalistic ethics. Finally, the iMediaEthics story is inaccurate. The story falsely refers to two interviewees I spoke with following the Orlando terrorist attack as "non-existent sources." I assured the writer of the piece that these people did, in fact, exist. I'd met the first, a self-identified security guard, at Sam Snead's restaurant in Port St. Lucie, where customers and staff were grieving victims of the terrorist attack. He'd overheard my conversation with another customer I was interviewing. We got to talking, and he shared the anecdotes recounted in my article. What name he worked under or has listed on his birth certificate I can't be certain, but I had no reason to doubt his story. The other interviewee, who'd given his name as Aahil Khan, said he was a childhood friend of gunman Omar Mateen.
Deutsch has written an even more detailed response
here
.