THIS LITTLE UNDERGROUND

The three-part
Women in Song
series by the
Orlando Philharmonic
just concluded before a practically full house (Mar. 1, Plaza Live). The finale was a performance by
Aoife O'Donovan
(say: "ee-fah"), fitting since it was this very event that yielded the rather big revelation (at last month's installment featuring Nickel Creek's
Sara Watkins
) that the eminent musician is now
local.
Joanna Chattman
Aoife O'Donovan
Probably best known as frontwoman of acclaimed modern bluegrass band
Crooked Still,
O'Donovan is highly regarded in literate folk circles with a list of collaborators ranging from
Alison Krauss
to
Yo-Yo Ma
and an appointment in the current house band on legendary radio show
A Prairie Home Companion.
As such, her
progressive Americana
sound has a folk foundation but with fine sensibility, studious craft and indie credentials (she's on
Yep Roc Records
).
Aoife O'Donovan at the Plaza Live
As O'Donovan herself noted, it was a particularly significant occasion because it was her first local show as a local. For it, she brought a trio that was an economical arrangement that – between the ghostly warmth of the electric guitar and the quietly sophisticated rhythms – showed impressive wingspan and smart atmospherics. But its heart was her rich, supple singing. Neither twee nor ostentatious, it's a voice that's confident in just its
grace.

Aoife O'Donovan at the Plaza Live
As is the trademark of this series, she also enjoyed the deluxe accompaniment of a
four-piece string section
of our own Philharmonic players. And, of course, her performance benefited from some extra special features like a duet with her husband and Orlando Phil conductor
Eric Jacobsen
on cello.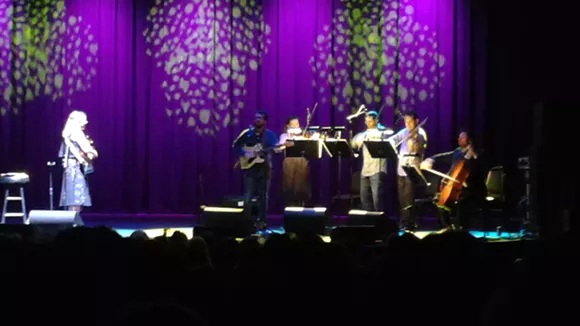 Aoife O'Donovan at the Plaza Live
Although the threads of American and Celtic folk are manifest, O'Donovan abstracts and re-contextualizes them in a
modern singer-songwriter language
alongside indie rock. With it, she gets personal. Her songs are the soundtrack of an inner world that's introspective but deeply inhabited and examined in detail, like a small house whose walls tell of entire lives lived within.
Aoife O'Donovan at the Plaza Live
It was a beautiful and locally apropos way to complete the
Women in Song
trilogy, proving it one of the most earnest and adventurous
audience outreach programs
seen around here in a long time. This was the Phil's first run of the series and, luckily, it was success enough that they're doing it again in their 2017-2018 season. Details to be announced soon so stay tuned.
///////////////////////////////////////////////////////////////////////////////////////
This Little Underground
is Orlando Weekly's music column providing perspective, live reviews and news on the city's music scene.

Follow Bao on Twitter (@baolehuu)
Email Bao: baolehuu@orlandoweekly.com