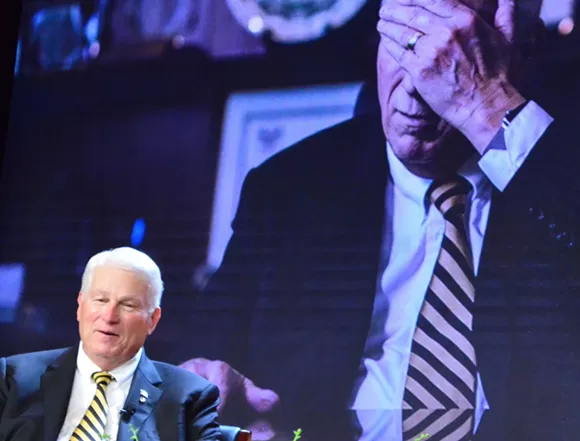 Photo by Joey Roulette
UCF President John C. Hitt discusses campus achievements on stage in the Student Union during the celebration of his 25th anniversary as President on March 1, 2017.

This week marks the 25th year of John C. Hitt's tenure as president of the largest university in the country. Students, faculty, and public officials were among the hundreds of people who celebrated President Hitt's anniversary at the University of Central Florida's Student Union on Wednesday afternoon.
Mayor Buddy Dyer, UCF student government president Chris Clemente, Orange County Mayor Teresa Jacobs, and a few long-serving faculty directors spoke on stage to tell honorable tales of the University's last 25 years before the President took the mic.
President Hitt spoke highly of the school's future in his anniversary speech on stage, signaling ambitious developments with Downtown UCF and commending the university's increasing rate of student enrollment.
In March of last year, Governor Rick Scott approved $20 million towards the Downtown campus which will help bring an estimated 7,700 college students to the urban area upon completion—a "real game-changer" accomplishment, Hitt says.
The student population at UCF increased by 43,051 under President Hitt, 44% of which are minorities according to 2016 data. UCF's upward hike in student performance rates and the increase of corporate and government partnerships were noted by Buddy Dyer as key achievements under Hitt's leadership.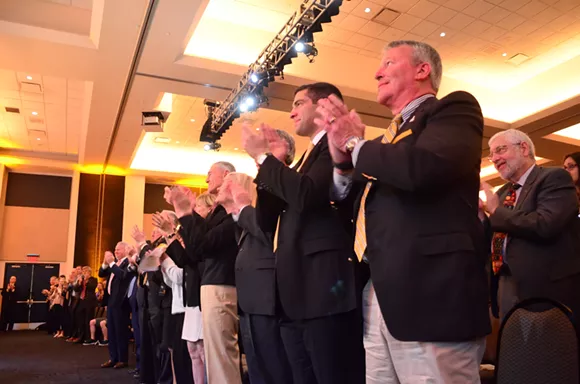 Photo by Joey Roulette
City of Orlando Mayor Buddy Dyer gives a standing ovation before John C. Hitt's anticipated speech.
As officials recalled milestones in UCF's history, the crowd was eager to hear what plans President Hitt had for the future and whether or not he intended to retire in the coming years from his long-standing position.

When the UCF Communications VP asked what's next for the President, Hitt playfully refused to face his inevitable departure and joked "Well, tomorrow will be the 2nd day of the 26th year." Leaving the UCF presidency seemed to be the last thing on John C. Hitt's mind; he will remain president at UCF for presumably many more years to come.
Trustee approvals and positive campus support have shown that the UCF president's unforeseeable retirement would be a sad but honorable event for the community. Mayor Dyer praised Hitt's role in shaping the Central Florida campus into a key economic asset to the State's region. The Board of Trustees approved Hitt's performance bonus last November, locking down a 26th year for the 72-year-old leader.
Hitt gave little detail on his plans to move forward with the University. Although his impressive record of ascending performance results implies an almost unquestionable ability to lead in the coming years, recent political winds have blown a unique set of challenges his way.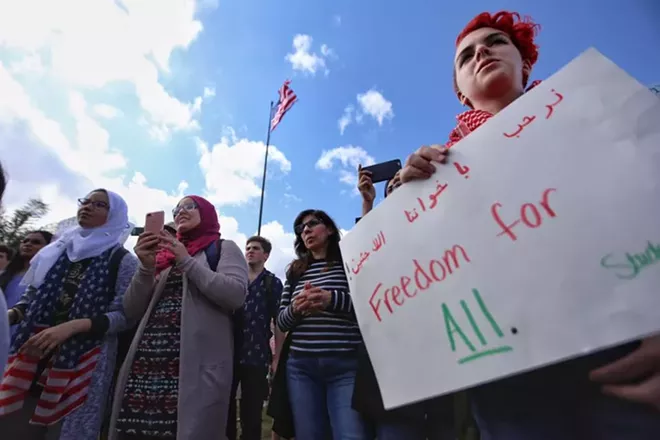 Photo by Joey Roulette
An officer from the student-run campus organization Students Organize for Syria holds a sign during a demonstration on UCF's Memory Mall protesting Trump's immigration orders.
A number of student-led activist organizations have called upon public officials and faculty members to support the prospect of UCF becoming a "sanctuary campus" amid the Trump administration's recent crackdown on illegal immigration. The student organizations —College Democrats, Muslim Student Association, and Eleven-Nine Coalition— demand UCF's police department to refrain from voluntarily assisting federal immigration forces in deporting undocumented students. Statements from Eleven-Nine Coalition demand UCF withholds student immigration status information from Immigration and Customs Enforcement (ICE) when requested.
Whether President Hitt plans to take action that aligns with the mounting pressure from campus activism remains unclear.
When asked if he would follow some of the ideas of a sanctuary campus, President Hitt told The Weekly he "might want to offer some of the things a sanctuary campus promises."
"But at the same" Hitt said, "I'm an officer of an institution that's owned by the state and largely funded by the state. So to say that I would somehow contravene duly enacted laws or regulations is problematic."
Grayson Lanza, a UCF student and one of the organizers for Eleven-Nine Coalition, says the sanctuary campus student activists are pushing to achieve for UCF essentially seeks to prevent the campus police department from cooperating with federal immigration enforcement officials—a bureaucratic maneuver that is, in fact, legal under the Immigration and Nationality Act of the Department of Homeland Security. This would not suggest President Hitt "contravene" the laws his public institution is required to follow. The ramifications of such requests are legal.
Whether or not local law enforcement like UCFPD can cooperate with federal ICE operations depends on a Memorandum of Agreement. This Memorandum is a letter written by local entities whose terms outline the authoritative relationship between federal agents and smaller scale, local law enforcement officials.
In other words, it is up to the local police department's sheriff to decide if police officers should help ICE deport undocumented immigrants. Just this week, the Orange County Sheriff's Office announced it will not be cooperating with the Department of Homeland Security's immigration measures. ICE, which is under Homeland Security, cannot bypass this local action unless they are issued a federal warrant.
University officials across the nation have spoken out against president Trump's "deportation forces," and have taken similar steps to prevent ICE from deporting students.
The University of Pennsylvania announced in a statement that it will not allow federal immigration agents on its campus unless required by warrant. The Associated Press reported that the University of Illinois, a public institution, followed similar affirmations and has issued a group to assess any legal obstacles in making the 44,000-student campus a sanctuary for immigrants.
Student opposition to the UCF sanctuary campus idea exists within a few student groups on campus, like College Republicans and Young Americans for Liberty—UCF's right-wing student organizations. But such groups have not gained nearly as much grassroots-traction as sanctuary advocates have.
President Hitt said he wasn't aware of any recent sanctuary campus success stories in the US. Wherever public universities achieve an immigrant sanctuary, Hitt was not opposed to entertaining similar ideas for UCF. "I'd like to see how they did it, if they did." the president said.