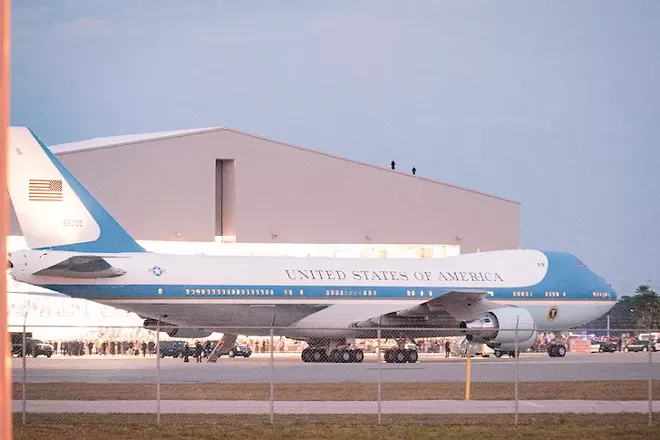 President Donald Trump's travel expenses have already
cost taxpayers millions
, but his frequent Florida visits are hitting one Palm Beach County airport particularly hard.
According to
CBS Miami
, Lantana Airport tenants are unlikely to receive any concessions from the government to make up for the business they've lost from airport closures during Trump's visits.
On Monday, March 6, U.S. Reps Lois Frankel and Ted Deutch revealed that Secret Service had met with tenants at the airport, telling them it is too dangerous to let aircraft take off from the airport while the president is in town.
Lantana Airport is about six miles southwest of Mar-a-Lago, and Secret Service agents are concerned about the threat posed by small aircraft and helicopters in flight patterns so close to the president.
Lantana businesses, including flight schools, a sky-banner operation and other aviation companies, say they are losing thousands of dollars every weekend the president plays a
few holes of golf
.
Trump has spent
22.8 percent
of his presidency so far in Florida, and Palm Beach County is already seeking $1.7 million in extra security costs incurred by his visits.
Frankel told CBS Miami it is unlikely that the 28 businesses at Lantana Airport will receive any reimbursement from the federal government. She suggests they negotiate rent reductions with Palm Beach County, which owns the airport, and that the county adds these costs to the money it's seeking from the White House.
Jonathan Miller, the contractor who runs the airport for the county, says he has already lost $440,000 after a helicopter business moved out of the facility.
"This won't work for four to eight years," he says.