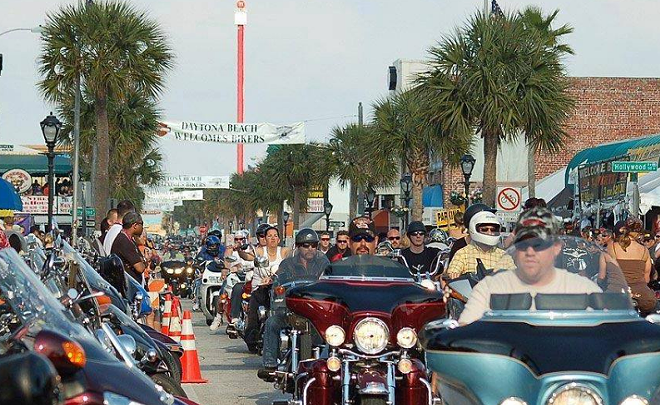 Photo via Daytona Bike Week/Facebook
As we approach the eve of
Daytona's Bike Week
, a new study suggests that Florida is the most dangerous state in the country for motorcyclists.
A study from National Highway Traffic and Safety Administration shows that Florida saw a 30 percent increase in motorcycle-related fatalities from late 2014 to 2015, and a lack of helmets is partially to blame.
83 percent of motorcyclists across Florida claim to wear a helmet, but according to a AAA consumer report only 47 percent are estimated to actually don the protective wear while riding.
However, motorcyclists lack of helmets is just part of the problem, bikers also aren't being seen on the road. "It comes with the nature of a bike, people just don't see you. I don't think it's the highways. It's in the cities where it's too congested, too many people not paying attention and on their phones," said Lakeland resident Max Baer to
NewsTalk Florida
.
The county with the most motorcycle deaths in 2015 was Miami-Dade, where the total topped out at 67 deaths. Orange County tied Lee county for 6th place on this list, with 26 motorcyclists losing their life two years ago.
According to the
Insurance Information Institute
, a 8.3 percent rise of motorcycle-related deaths occurred in 2015 nationwide.