Last week, we shared photos from the
Wine Bar George x Morimoto Asia dinner collab
featuring some superlative dishes courtesy of chef Yuhi Fujinaga with wine pairings by George Miliotes.
This week Miliotes, one of 230 master sommeliers in the world, paired up with Four Seasons Orlando executive chef Fabrizio Schenardi for a five-course dinner at Ravello that left the ravenous and ravishingly attired attendees gratified and satiated. Miliotes poured seven wines, including a "badass Barbera" (his words, not mine) he paired with a succulent Barbera-braised short rib.
If you're curious as to where Miliotes will pop up next, look for him at the
4th annual Field to Feast dinner
at Long & Scott Farms March 25.
Until then, check out the visuals of "An Evening with Master Sommelier George Miliotes":
Charcuterie and cheese board
Veal liver mousse | apple marmellata | balsamic gelatin (paired with Antinori Vermentino)
Red trout and roe | fingerling potatoes | haricots verts | quail egg | pickled vinaigrette (paired with Princip Friulano and Ceretto Arneis "Blangé")
Bucatini pasta "paglia e fieno" | gorgonzola dolce | walnut kale | sage brown butter (paired with Medici Ermete Lambrusco)
Barbera wine-braised short rib | acquerello rice "budino" | golden raisin | red mustard (paired with Poderi Elia Barbera D'Asto and Castello di Bossi Chianti Classico)
Strawberry citrus granita | candied orange | warm biscotti (paired with Perlina Moscato)
Featured wines for "An Evening with George Miliotes"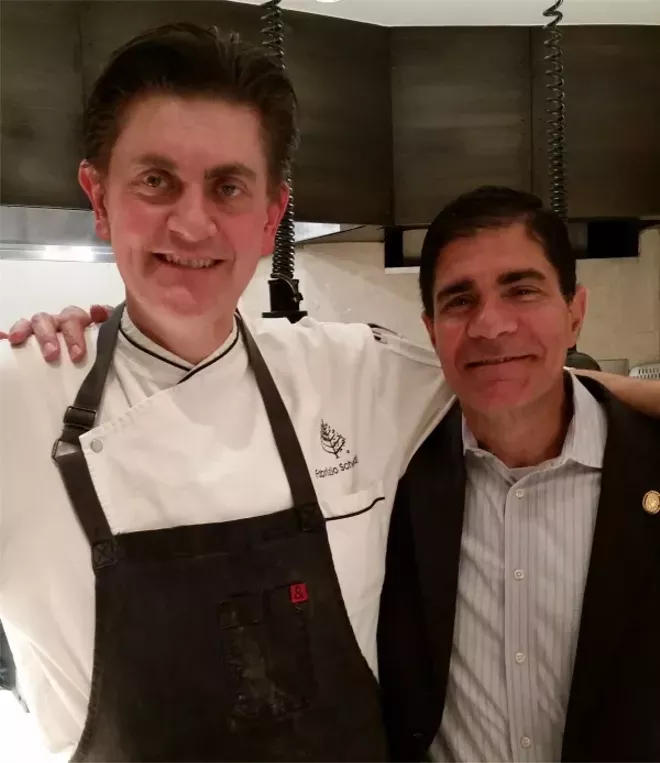 Executive chef Fabrizio Schenardi and Master Sommelier George Miliotes