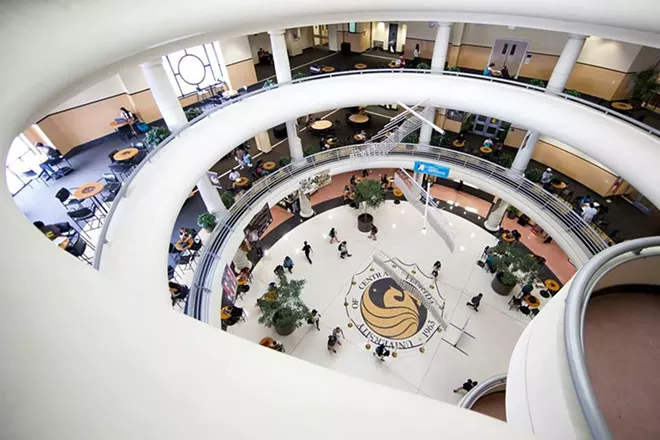 The University of Central Florida has released new details about a hazing violation in one of its Greek life organizations, marking the third case this year.
According to a UCF spokesperson, the university is currently investigating three ongoing student conduct violations related to the Greek system. All three of the organizations are on interim suspension.
In the case released this week, an anonymous email sent to campus police accused an Alpha Epsilon Pi fraternity brother of holding a gun barrel to the head of a blindfolded pledge.
The email describes an incident involving pledges blindfolded on the floor, with a fraternity brother racking a rifle above them, pumping it in an action that unloads and loads a shotgun shell. The email didn't say if the gun was real, or loaded.
When one pledge asked if the gun was real, the fraternity brother placed the barrel of the gun to his head, asking if he thought it was real now.
The fraternity was temporarily suspended by the university pending results of UCF's investigation.
In an email sent to
Orlando Sentinel
, Alpha Epsilon Pi fraternity spokesman Jonathan Pierce wrote, "This was not a condoned action by the chapter. Rather, it represents the actions of a rogue member who, again, has been suspended from the fraternity pending his permanent removal."
UCF is also investigating two other hazing incidents.
The UCF chapter of Phi Delta Theta was
suspended
back in February after the university received an email from a student concerned about a pledge.
"After weeks of 'pledging' Phi Delta Theta, he has come to seek aid from me as he says it has been one of the most psychologically harming experiences he has ever experienced," the email says. "It has taken a toll on him both mentally and physically. On top of that his grades have dropped due to this. He simply doesn't seem the same and I need action to be taken."
The school has also temporarily suspended the Mu Sigma Upsilon sorority after receiving a complaint from a student who said his girlfriend was told she could not socialize with anyone outside the sorority during the six-week pledging process.
He also wrote that she had already paid $369 in dues before she was told of the process and was upset that she did not receive a refund after deciding not to join the sorority.
According to a Feb. 24 letter to the sorority, the university is currently investigating and interviewing sorority members.
A UCF spokesperson says the university takes precautions to prevent hazing in its campus Greek life organizations.
It's anti-hazing initiatives include a Greek leadership retreat, new member workshops, hazing prevention workshops and Green Dot bystander overview and training, a program that aims to help people intervene before sexual assault occurs.