Marco Rubio, a Florida senator
who actively avoids talking to his constituents
but seems to always have the time to
discuss rap music with reporters
, wants us to know he is not a fan of Snoop Dogg's latest music video.
The
video
, which is a remixed version of the song "Lavender" by the Canadian group BADBADNOTGOOD and features a guest verse from Snoop Dogg, shows an orange clown president named "Ronald Klump" getting shot with a prop gun that says "bang" after the trigger is pulled.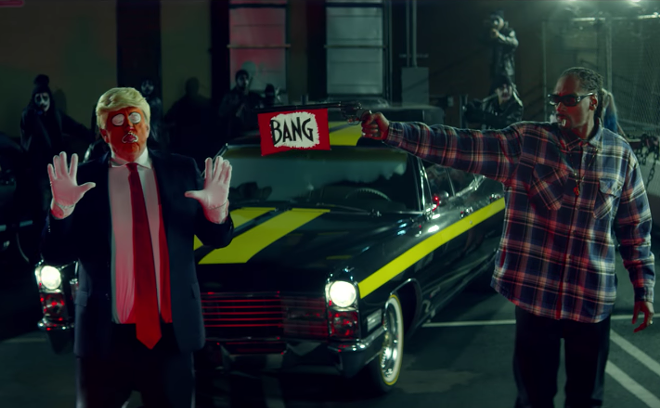 This is too much for Rubio, who told
TMZ
on Monday, "Snoop shouldn't have done that." The senator went on to point out that "we've had presidents assassinated before in this country, so anything like that is something people should really careful about." He also told the gossip channel "if the wrong person sees that and gets the wrong idea, you could have a real problem."
The thing to remember about Rubio is that he has always had strong opinions about rap music. Here he is in 2012 with a hot take on Pitbull (that no one asked for):
Obviously, Rubio is picky about his rap music. According to the
Washington Post
, he has a penchant for West Coast hip-hop, and his favorite tracks include N.W.A.'s "Straight Outta Compton," and Tupac's "Killuminati.'
Back in 2013, the Senator told
TMZ
that Tupac is a respected artist because he was delivering a message through entertainment, unlike modern-day rappers. "I think Tupac was more someone who was trying to inform us about what was going on, and he did it through entertainment," said Rubio.
Of course, Rubio has never expressed any issues with Tupac's lines in the track "
Last Wordz
," where the rapper says former Vice President Dan Quayle should get his ass kicked ...
"Let 'em come step to a real mothaf—er / Mama ain't raised no suckers / Dan Quayle, don't you know you need to get your ass kicked / Where was you when there was n—-s in the caskets / Mothaf—er rednecks all the same / Fear a real n—- if he ain't balled and chained / That's why we burn s— and wreck / 'Cause the punk police ain't learned s— yet / You mothaf—ers gonna pay the price / Can't make a black life, don't take a black life, it's on." - Tupac
The fact that Rubio even had anything negative to say about Snoop Dogg is just flat out confusing. For a guy who loves rappers who say things like "F– the police," Rubio seems to have drawn a line when it comes to certain topics in rap music, and apparently it all comes down to clowns getting shot with a clown gun.
In an interview with
Billboard,
Snoop discussed his recent video and stated that "nobody's dealing with the real issue with this (expletive) clown as president," and that other rappers today are only releasing "party music."
Sounds familiar, doesn't it?
The sad irony here is that Rubio fails to understand that rap music, especially gangsta rap, was born out of protest. I think it's safe to assume that if Tupac were alive today Rubio would be the subject of one of his songs, and not in a good way.
The only thing to take away from Rubio's supposed love of hip hop, is that things like art, entertainment and symbolism are concepts that are completely lost on him, especially when they're aimed at his orange leader.