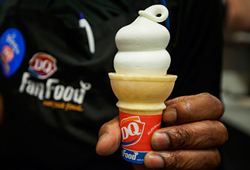 Image courtesy Dairy Queen
You need endorphins, I need endorphins, we all need endorphins. Two things that both release endorphins: doing good deeds and sugar. DQ (also known as Dairy Queen) can help with that.
Today, DQ is giving out free scoops all day long to benefit
Children's Miracle Network hospitals
. You don't have to donate in exchange for your small scoop, but surely the gesture is appreciated.
In the past, DQ has raised more than $120 million for the charity. Last year alone, patrons donated more than $200,000 nationwide.
One of the best things about this particular event is that local franchises get to decide how to use the donated funds. They'll be able to choose from multiple options, like purchasing new medical supplies, supporting research efforts, etc., to help decide how to make your dollars count.
Find your nearest DQ location
here
. Enjoy your endorphins.