THIS LITTLE UNDERGROUND
Jen Cray
Oathbreaker at Backbooth
The recent
Endoxa Booking
concert was another one of the heavy music promoter's more forward and interesting bills.
Jen Cray
Oathbreaker at Backbooth
Belgian headliner
Oathbreaker
are one of the next-level modern metal bands that exist beyond the walled ghettos of sub-genre. From the open-ended pillars of
black metal
and
post-metal,
their sound is free to follow their deep mood anywhere. With singer Caro Tanghe providing their emotional and raging humanity, the music can go from a mournful siren song to a full blizzard and then settle into a highly musical odyssey all in the stretch of a
single song.
Jen Cray
Oathbreaker at Backbooth
Even amid all their extremity, there was considerable depth and nuance in their live performance. And while their expansive scope rivals that of fellow Deathwish band
Deafheaven,
Oathbreaker muster even more dynamic contrast.
Jen Cray
King Woman at Backbooth
Not that Oathbreaker were doing this but, as a general truth, anyone can toss together a salad. It takes real vision to devise something that's a
true gestalt
and not just the sum its parts. Meet San Francisco's
King Woman,
who are also on the heterodox vanguard of heavy music. They can be dissected and reduced, sure, but only so far. There's sludge, post-metal, doom, drone and dirge in there. Instead of just coinciding, though, they all align and conspire into a
new, synthesized whole.
And now this mighty vessel for Kristina Esfandiari (a former member of talented but embattled shoegaze band Whirr) is emerging as a newly realized
full band
with the fresh release of their debut album (the excellent
Created in the Image of Suffering
) on metal colossus
Relapse Records.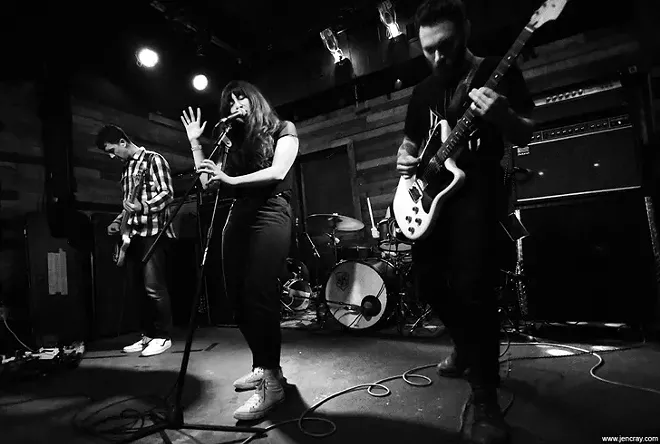 Jen Cray
King Woman at Backbooth
That's some buildup, huh? And it's into that attendant anticipation that King Woman made their
first and only Florida appearance.
Unfortunately, the debut was doomed, and not in
that
way. Because they and tourmates Oathbreaker played all the way up in Nashville the night before, they were late arriving and their gear even later. And tragically, King Woman's performance was the casualty. To meet the club's curfew, their set was abbreviated. But
those two songs though.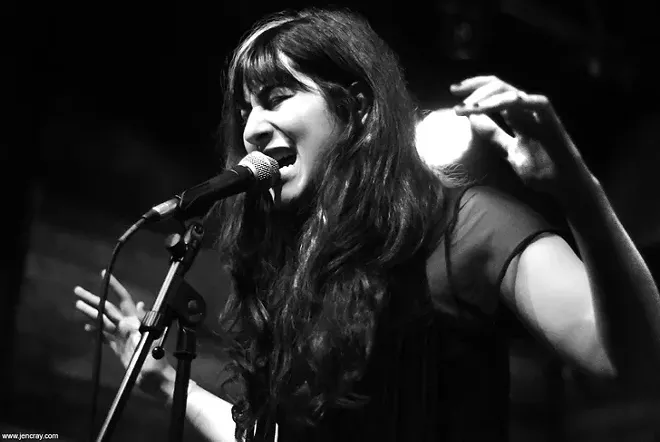 Jen Cray
King Woman at Backbooth
In that brief glimpse, they conjured atmosphere, heaviness and theater. With fatal lullabies looming over the crush and crash of their instruments, the music haunted as much as it rocked. For hardcore punk, an entire set can be done for
10 minutes.
But for the King Woman experience, it just doesn't do.
Jen Cray
King Woman at Backbooth
Explanation and apologies were given by Oathbreaker. But the crowd during King Woman looked legitimately into it with what seemed like a good number of people there to see them, so a
makeup show
would be the right thing to do next time they're touring the region.
Jen Cray
King Woman at Backbooth
///////////////////////////////////////////////////////////////////////////////////////
This Little Underground
is Orlando Weekly's music column providing perspective, live reviews and news on the city's music scene.



Follow Bao on Twitter (@baolehuu)
Email Bao: [email protected]