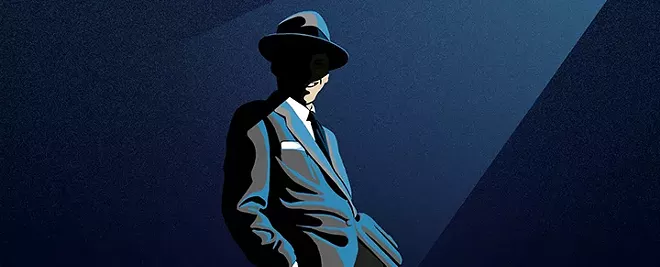 The twists and turns of critical opinion that works of art take as they age from brand-new to established classic are slippery indeed. Take Twyla Tharp's
Sinatra Suite
, one of the masterworks presented by Orlando Ballet in this program. The choreographer made the dance on a set of Sinatra songs in 1982, well after the crooner had gone from fresh young hitmaker to elder statesman. At a 1983 concert, Ol' Blue Eyes himself compared "Strangers in the Night," one of the songs in Tharp's Suite, to pineapple yogurt (i.e., sickly-sweet and lacking edge). Yet Tharp's treatment took a song that was in the lame trough between new and classic, fusing it with modern movement and restarting its 15 minutes of cool. Perhaps inevitably, by the '90s,
Sinatra Suite
was itself being called clichéd. However, following that well-trod path, Tharp's loose-limbed pop paeans are again being hailed as challenging chefs d'oeuvre, just as Sinatra's boozy ballads are said to have set the standard for noir masculinity. All of which is a long-winded way of saying that everything old is eventually new again, and wine's not the only thing that improves with age: Also on the program are
Serenade
, with choreography by George Balanchine and music by Tchaikovsky, and
Fancy Free
, with choreography by Jerome Robbins and music by Leonard Bernstein.
8 p.m. Friday and Saturday, 2 p.m. Sunday, March 24-26 | Walt Disney Theater, Dr. Phillips Center for the Performing Arts, 445 S. Magnolia Ave. | 844-513-2014 |
drphillipscenter.org
| $35-$95