THIS LITTLE UNDERGROUND
Jen Cray
Stevie Nicks and Chrissie Hynde at Amway Center
This double-decked legacy bill was definitely one of those bucket-list concerts. I finally saw
Stevie Nicks
with Fleetwood Mac in 2009 but not solo. And I'd never seen the
Pretenders.
Both are in the
great rock canon
but under slightly different chapters. Nicks is definitive of popular music culture at large while Chrissie Hynde's place is more rooted in the underground. What they share, though, is that they've not only laid legitimate claim to hallowed ground historically dominated by men but they've done it
on their own terms.
Neither can really be said to be in their prime, but time isn't the enemy to them as it is to all us mere mortals. No, these
grandes dames
are
legend.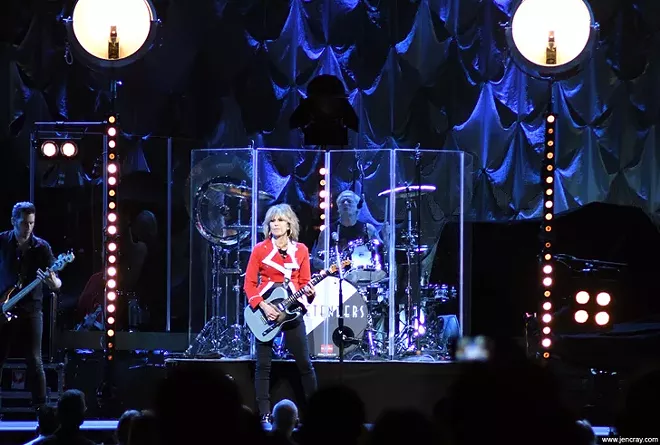 Jen Cray
Pretenders at Amway Center
Of course, none of that makes them fresh, exactly. In the Pretenders' case, however, a new look beyond their classic catalog could change that. Hynde comes on the recent revival of the band with last year's album
Alone,
which has the golden and very contemporary fingerprints of the Black Keys'
Dan Auerbach
all over it. They played the hits, naturally, but they also dropped a bit of the new stuff, and it felt very now.
Jen Cray
Pretenders at Amway Center
Although Hynde confessed to not hitting the high notes this night, her voice actually showed little signs of dust or rust. Its state and fitness were pretty astonishing, really. Besides, in person and presence, she's still as fucking cool as ever. The band, too, were good, even sporting an unexpected pedal steel. Even in the deep headlining shadow of Nicks, the Pretenders received a
standing ovation.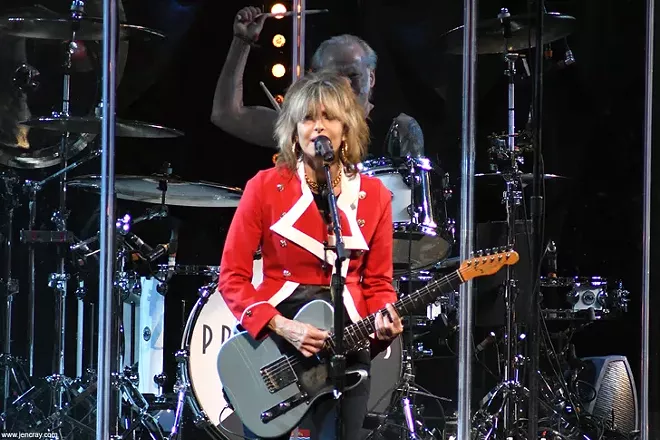 Jen Cray
Pretenders at Amway Center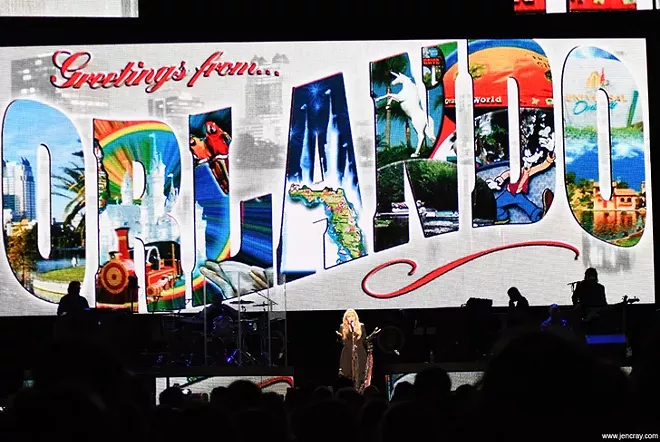 Jen Cray
Stevie Nicks at Amway Center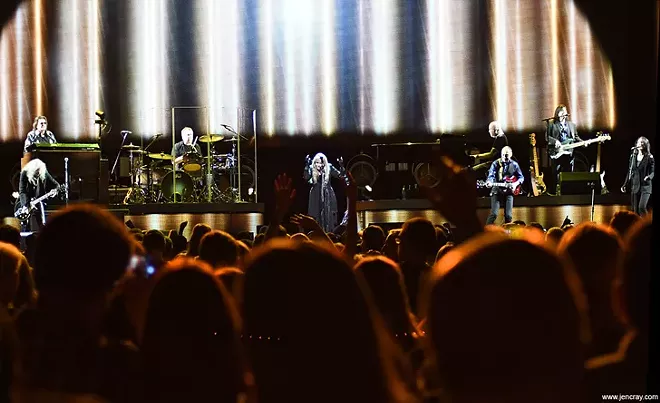 Jen Cray
Stevie Nicks at Amway Center
Befitting both her place on the marquee and her stature, Stevie Nicks' show was a duly grand production. Lushly instrumented, the set was a procession of pop songs – mostly solo material, some Fleetwood Mac – that embodied their respective eras, especially the '80s. In Tom Petty's place, she brought Chrissie Hynde back out to sing on "Stop Draggin' My Heart Around."
Jen Cray
Stevie Nicks and Chrissie Hynde at Amway Center
But on this tour, her set list went a little out of the way. Besides the hits, she took the license she's surely earned to perform material both newer and unearthed, a move that mirrors her recent recordings. When I saw Nicks with Fleetwood Mac, it took a while for her voice to warm up and hit stride. This time, that solid-gold instrument was ready for action from the jump.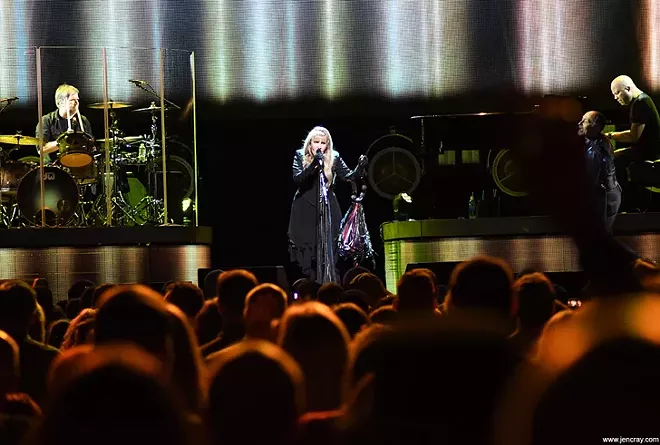 Jen Cray
Stevie Nicks at Amway Center
Jen Cray
Stevie Nicks at Amway Center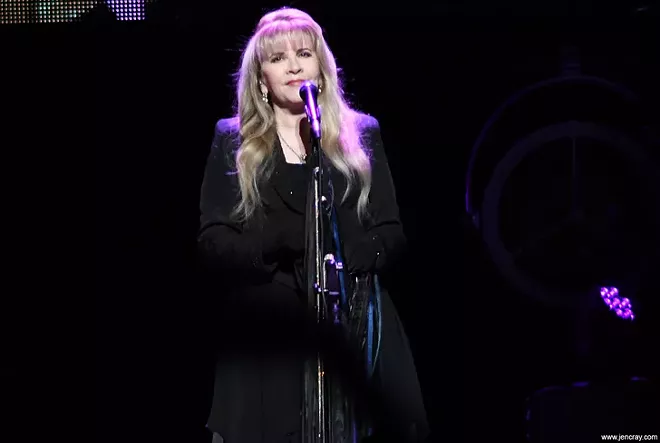 Jen Cray
Stevie Nicks at Amway Center
But even though the singer came to play, this event was equally about Stevie Nicks the figure. With ample storytelling time built in, the night was as much a personal flip through a
real-life rock & roll memoir
as it was a concert. No argument there. The old less-talk-more-rock maxim does not apply with such storied icons. In fact, the converse can be true when you're being regaled by firsthand tales inhabited by giants like
Tom Petty
and
Prince,
punctuated by projections of historical photos and artifacts like wardrobe from classic albums.
Jen Cray
Stevie Nicks at Amway Center
Whether in song or story, Stevie Nicks' presence is what carried the night. But beyond what radiated from the stage, the buzz surrounding it – between the sea of shawls and scarves and the fact that my ears were blown out not by the music but the screams of superfans – was proof that the
cult of Stevie
is alive. When she finally did one of her twirls, the roof seemed on the verge of peeling back. Yes, Stevie forever.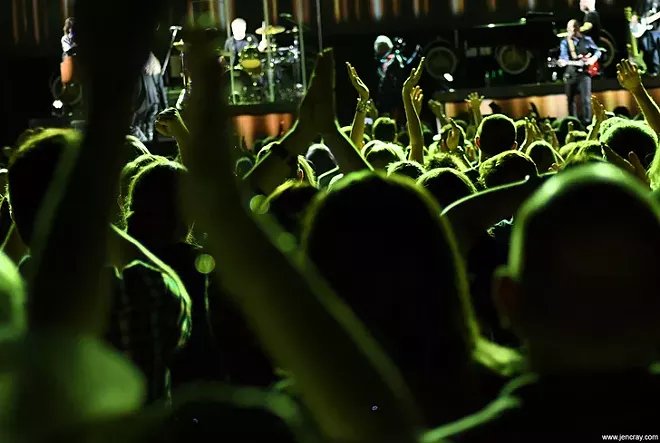 Jen Cray
Stevie Nicks at Amway Center
///////////////////////////////////////////////////////////////////////////////////////
This Little Underground
is Orlando Weekly's music column providing perspective, live reviews and news on the city's music scene.

Follow Bao on Twitter (@baolehuu)
Email Bao: baolehuu@orlandoweekly.com