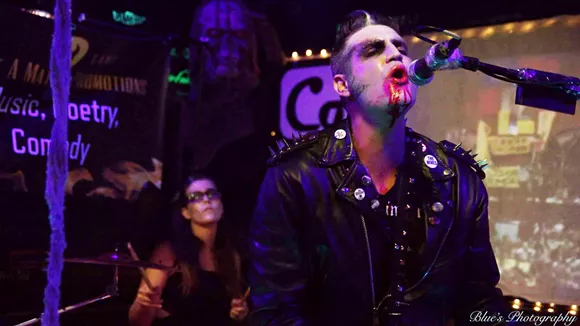 Welcome to
Orlando Weekly
's "
Band of the Week
." Every week, we highlight one of our favorite local bands. This week, we're pleased to bring you
Sacred Owls
.
Sacred Owls are playing the "Cash for Cashes" benefit at Coffins Print Shop on April 1 with TGTG, the Sugar Fathers, Really Fast Horses, and more.
Just the facts:
Who's in the band?

The core of the project is Christian Coffins (Guitar, Vox) and Arielle Burial (Drums, Vox), but we do have legacy members who perform from time to time like Aubry Rocker and Will Brack (Double Bass), and Trigger Finger Joe (Drums, Vox).
When did the band form?

2009
Currently available releases:

Websites:

sacredowls.com

Facebook
Describe your sound in five words:

ANTI-ILLUMINATI POLITICAL PROTEST HORROR PUNK-A-THRASH-A-BILLY
Five questions:

What has been your most memorable show so far?

Sacred Owls, Warm Like Winter, The Attack, Koffin Kats at Backbooth. It was fun designing the poster and all those guys are always a blast!
Which local band is your favorite one to play a show with?

That's Hard. We LOVE so many of 0ur buddies' bands. I would have to say, by a hair, at the moment, Doktor Faux & The Right Angles.
What description gets used for your band that you would most
like to correct people on? Why?

Because we are a two-piece [and] also a couple, we often hear "You guys are like the White Stripes or Mates of State" which is silly because we are very different from them. Although we do like those bands, I doubt we will see them pour fake blood on themselves in front of projected gory scenes from horror films and protests while screaming "9/11 WAS AN INSIDE JOB" any time soon… though, that would be amazing.
What's your favorite thing about being an Orlando band?

The support from all the talented, creative, and energetic bands that play at our place (Coffins Print Shop) and add us on very cool shows at other local venues. Orlando is such a unique tourist attraction which encourages varied demographics full of artists and appreciators of all kinds adding their special brands of encouragement and commentary to each event.
What's your least favorite? Why?

It is way too competitive and some people take event booking far too seriously. If you do it for profit, you are in the wrong business. It is about the art, message, and experience. If you happen to make some cash doing so, fantastic, but it's counterproductive to let money prevent inspiring and connecting with people.
Any big news to share?

In this downward spiral of political and social corruption, many of our supposed public servants, corporations, religious leaders, and Hollywood abuse their power to feed on the weak and are as diabolical as ever. Sacred Owls and other artists who share our goals of exposing and ridiculing these arrogant fools are growing in popularity now more than ever before! People are fed up. They are becoming increasingly aware that the educational systems are botched by design and our political leaders are wicked opportunists who do not have our best interests in mind, but rather, are focused on "death for profit." These are not new concepts; this is how it has always been. However, with new technology and social media, we currently have all the information at our fingertips if we know where to look. Those who aim to manipulate the masses still try to discredit those who expose evil by calling many legitimate reports "fake news," "conspiracy theory," "tin-foil-hat-material," or whatever other governmental directive buzz-word is popular that week. That does not change the facts. Government sponsored terrorism isn't the exception, it's the rule. The time has come for evolution, not another revolution. – Sacred Owls