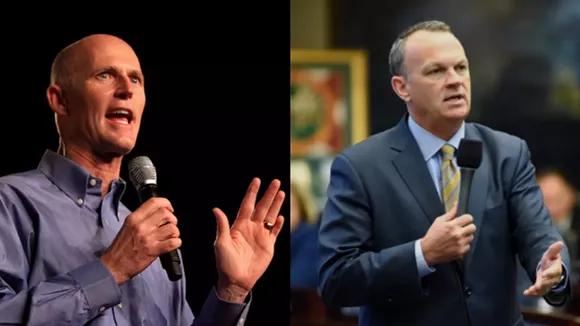 Left photo by Gage Skidmore via Flickr/ Right photo via Richard Corcoran
Gov. Rick Scott on Monday upped his personal battle with House Speaker Richard Corcoran about the future of the state's business-recruitment agency.
Kim McDougal, Scott's chief of staff, sent a memo to state agency heads directing a review of legal contracts in response to a Tampa Bay Times report last week that Enterprise Florida has contracted with Broad & Cassel, a law firm that employs Corcoran.
Scott and Corcoran have clashed for weeks about the speaker's push to abolish Enterprise Florida, an agency that Scott says is important to recruiting businesses.
Without mentioning Corcoran by name, McDougal pointed to a need to avoid entanglements between legislators and state contractors. She directed agencies to review whether they have contracts with law firms that employee any lawmakers.
"The employment of a legislator by a law firm that conducts business with the state could easily be perceived as a conflict of interest," McDougal wrote in the memo, which also was sent to the news media. "Additionally, a state employee (an individual paid by the state of Florida) should not, under any circumstance, have any undisclosed employment or contractual relationships that could impede the faithful duties of their employment assignment."
In the memo, McDougal wrote that it is "important to know if the spirit and letter of the law are being followed regarding legislators or state employees' contractual relationship with our state agencies." The memo only referred to Corcoran as "a legislator."
Fred Piccolo, a spokesman for Corcoran, fired back in an email Monday night.
"The speaker will join hands with the governor to clean up wasting taxpayer money anytime and anyplace," Piccolo said in the email. "He's encouraged the governor is engaged now in ethics reform and admitting Enterprise Florida is a state agency. Two huge steps for those, like the speaker, who want full transparency and accountability of government spending. We appreciate the governor's office again pointing out that Richard Corcoran cannot be bought by reminding everyone that he completely eliminated the budget of a client of his employer."
The Times reported that Broad & Cassel has done about $235,000 in legal work over the past three years for Enterprise Florida. Corcoran told the Times for its report that he was unaware of the law firm's work with Enterprise Florida.
Scott and Corcoran have been locked in a battle for weeks about the futures of Enterprise Florida and tourism marketer Visit Florida.
Scott wants lawmakers to approve $85 million for business-recruitment incentives and $76 million for tourism marketing. Corcoran, who has described incentives as "corporate welfare," wants to put new restrictions on Visit Florida, along with abolishing Enterprise Florida.