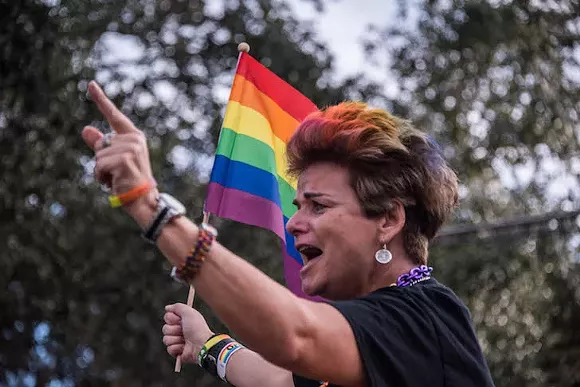 Orlando Commissioner Patty Sheehan is calling out top local officials for leaving out LGBTQ communities during announcements for the one-year commemoration of the attack that left 49 dead at the gay nightclub Pulse.
Orlando Mayor Buddy Dyer and Orange County Mayor Teresa Jacobs both appeared in a 44-second
video
on Monday to promote "
Orlando United Day
" on June 12. The day's events are supposed to be a tribute to victims and survivors, as well as a recognition of the acts of kindness that happened after the massacre. While both mayors mentioned the importance of honoring the lives lost, Sheehan says neither specifically mentioned the communities most affected by the Pulse tragedy, including the LGBTQ community, the Latinx community and the African-American community.
Sheehan says she is "deeply distressed" by the omission in a
Facebook
post
.
"I want to assure everyone that the Day of Remembrance has been planned with this level of sensitivity and recognition," she writes. "Some of my input was ignored. That is unfortunate. But we will move forward on events that will unite and honor our community. We will not be silenced. We will honor those lost in a respectful fashion, as we try to educate those who do not understand."
Jacobs and Dyer were probably not coming from a place of malice, and they're not the first major officials to be guilty of this (cough,
Rick Scott
, cough). But leaving out the identities of the majority of victims and survivors is like leaving out why they were targeted at Pulse, whether you want to call it terrorism or a hate crime. The majority of people gathered at Pulse on June 12, 2016 on "Latin Night" weren't there by coincidence; they were trying to have fun in one of the only safe spaces they knew on a night when queer Latinxs could fully express themselves. To omit that, whether intentional or not, denies an important part of their existence. And it also makes all the rainbows around Orlando hard to explain.
Dyer defended his commitment to LGBTQ communities in a statement.
"Our commitment to those who were directly impacted by the loss of loved ones, those who survived the attack, those who were there that night and every single person who felt the pain and loss of this tragedy is unwavering," he says. "We have stood united as a community, not bound by differences but by love and respect, since that day and are committed to a future of inclusivity and empowerment for all people. At the forefront of this commitment, is our support of our LGBTQ+, Latinx and other communities of color who were targeted by this act of hate."
Jacobs also released a statement saying her comments were not meant to be dismissive.
"If in the absence of specific mention of our cherished LGBTQ and Hispanic populations in the video announcement for the Orlando United Day yesterday, the message was construed as insensitive or dismissive, I would certainly like to underscore that in no way was that the intention," she says. "I regret if anyone experienced that reaction. Rather, I am deeply proud of how our entire community and diverse populations stood united since the Pulse nightclub tragedy. Together, we have shown the world what it means for love to prevail."
Sheehan says the incident was a "teachable" moment, and she'll make sure communities and families feel included in the future.
"Sometimes government makes mistakes," Sheehan says. "I will do all I can to make sure it is fixed. Don't let a blip of ignorance drown out the bright light that is our community in Orlando. We are Orlando United!"