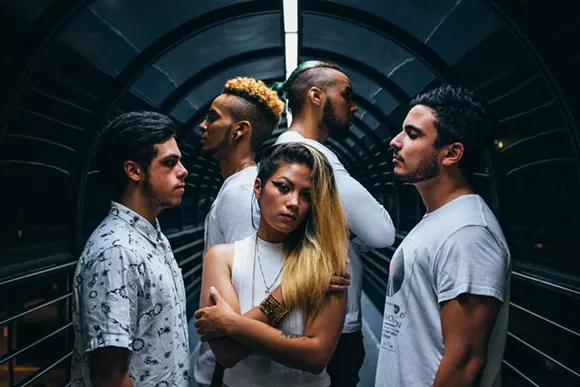 Welcome to
Orlando Weekly
's "
Band of the Week
." Every week, we highlight one of our favorite local bands. This week, we're pleased to bring you
Fiery Sushi
.
Fiery Sushi is playing their EP release party at Will's Pub on April 7. They're also playing Florida Music Festival on April 22.
Just the facts:

Who's in the band?

Maria Jazel - Lead Vocalist / Guitar
Finess Quezada - Lead Guitar
Mateo Velez - Rhythm Guitar
Carlos Quezada - Drums
Gabe Lugo - Bass Guitar
When did the band form?

Brothers Finess and Carlos Quezada started the band on Feb. 26th, 2009, and have had Maria Jazel as their lead vocalist since November 2013.
Currently available releases:

The
Fiery Sushi
EP was released on Feb. 14th, 2017 and is available on iTunes, Spotify, Google Play, Amazon, and more.
Websites:

FIERYSUSHI.NET

Facebook
Describe your sound in five words:

Lively, heartfelt, refreshing, vigorous, dynamic
Five questions:
What has been your most memorable show so far?

We couldn't name just one, but Hard Rock Live, House Of Blues and Vans Warped Tour have made the top of our list.
Which local band is your favorite one to play a show with?

Beach Casino. They ALWAYS bring the hype and so much energy to the table. Such a fun group of musical talent to share the stage with.
What description gets used for your band that you would most
like to correct people on? Why?

We have been told on countless occasions that we sound like the band Paramore. It's such a compliment to hear on a regular basis, although, we think our sound has a bit of a different feel than "only Paramore" and we can't wait to continue producing more and more music for everyone to get the feel for Fiery Sushi.
What's your favorite thing about being an Orlando band? What's your least favorite? Why?

Favorite thing: Orlando has such a diverse/supportive crowd and there are so many amazing venues to play at.
Least Favorite: We can't take all of our Orlando friends, family and fans on the road with us, and we wish we could!
Any big news to share?

We'll have some tour dates to share very soon, stay tuned!