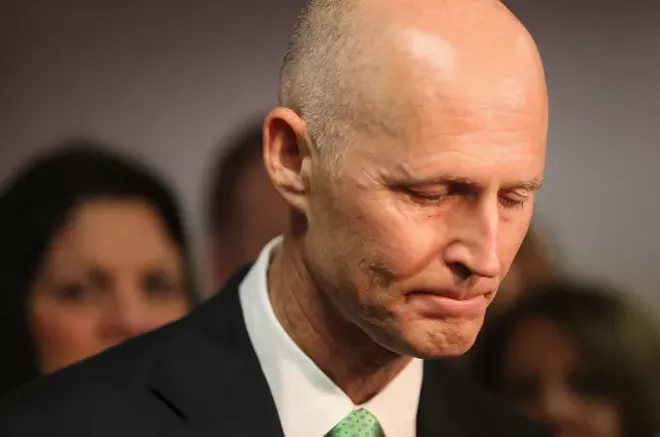 Gov. Rick Scott reassigned
21 first-degree murder cases
away from Orange-Osceola State Attorney Aramis Ayala for her refusal to seek the death penalty during her administration.
Scott
announced
Monday that he is reassigning those cases to Ocala-based State Attorney Brad King, from the Fifth Judicial Circuit. In a news release, Scott says King has accepted the duty of reviewing each case.
"Each of these cases I am reassigning represents a horrific loss of life," Scott says in a statement. "The families who tragically lost someone deserve a state attorney who will take the time to review every individual fact and circumstance before making such an impactful decision. Some of the victims include a teenager whose life was taken before he could bravely testify as a witness to a dangerous crime, a single mother who was abducted and killed as she called for help, and a young child whose life was brutally cut short. I cannot imagine the pain their families endure each day and we will do all we can to aggressively fight for justice."
Scott says Ayala's refusal to consider capital punishment sends an "unacceptable message that she is not interested in considering every available option in the fight for justice."
Scott had already removed Ayala from the case of Markeith Loyd, who is suspected of killing his pregnant ex-girlfriend Sade Dixon and Orlando Police Lt. Debra Clayton. Ayala has indicated that she may appeal Scott's decision before the Florida Supreme Court.
Attorney General Pam Bondi also said in statement that she would like to commend Scott for "his swift action for not only protecting citizens of Orlando but standing up for all crime victims and their families."
UPDATE 4:57 p.m.:
Orange-Osceola State Attorney Aramis Ayala has responded to Gov. Rick Scott's order removing her from 21 first-degree murder cases, saying he's "abusing his authority."
"Ayala became aware of the Governor's reassignment of 21 cases this afternoon after the Governor released it to media outlets," says Eryka Washington, a spokesperson for the office, in a statement. "There was never official notification from his office. Ms. Ayala remains steadfast in her position the Governor is abusing his authority and has compromised the independence and integrity of the criminal justice system."