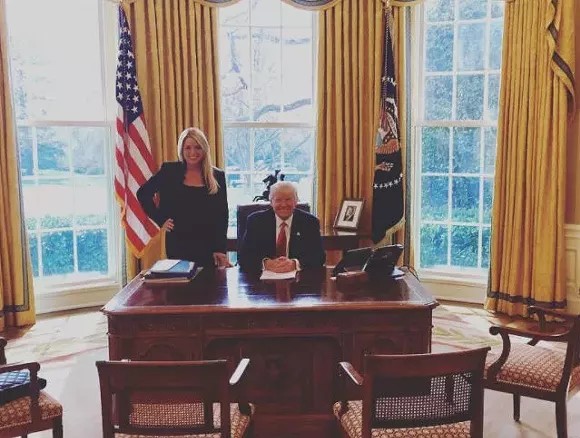 Photo via Pam Bondi/Instagram
A Florida prosecutor found "no reasonable suspicion" that Attorney General Pam Bondi did anything wrong when she asked for and received a $25,000 political contribution from President Donald Trump, all while investigating alleged fraud at Trump University.
Yeah, we couldn't say that with a straight face either.
The
Associated Press
reports State Attorney Stephen Russell told Gov. Rick Scott in a letter that his office found insufficient evidence to support the bribery complaint against Bondi made by Boston lawyer J. Whitfield Larrabee.
"There's nothing contained therein that Larrabee had any direct knowledge, physical evidence or sworn testimonial evidence that the offense of bribery occurred," writes Amira Fox, the chief assistant state attorney for Russell's office. "The majority of the complaint consists of insinuation without any material evidence in support."
So let's go over that insinuation, shall we? Back in 2013, Bondi asked Trump for a re-election contribution to her political action committee "And Justice For All," and the Trump Foundation cut her a $25,000 check. Around this time, Bondi was considering whether Florida should join a lawsuit initiated by the New York attorney general and investigate complaints that Trump University had defrauded consumers. Ultimately, she decided not to pursue the allegations.
Bondi has said publicly that she had no knowledge of complaints against Trump's educational institutions when she asked for the donation. But as the
Orlando Sentinel
has reported, that doesn't appear to be true.
Floridians had filed complaints against Trump University since 2008, years before Bondi even took office, and continued to file them in 2011. The
Sentinel
reports Bondi's staff were talking about the complaints two weeks before she took the $25,000 donation. Unless she's been
rescuing dogs
this whole time instead of going into work, it's hard to believe she didn't hear her top employees chit-chatting about her friend allegedly swindling students. Trump agreed to a $25 million settlement with students in the New York case after he was elected.
The contribution ultimately cost Trump $2,500 in a penalty payment to the IRS after authorities discovered it was an illegal political donation from the businessman's charitable foundation, which can't make political contributions.
Nothing fishy here, Russell's office concluded. It's not over for Bondi yet, though. The Florida Commission on Ethics will have a hearing later this month on April 21 over a similar complaint Larrabee filed with their office.