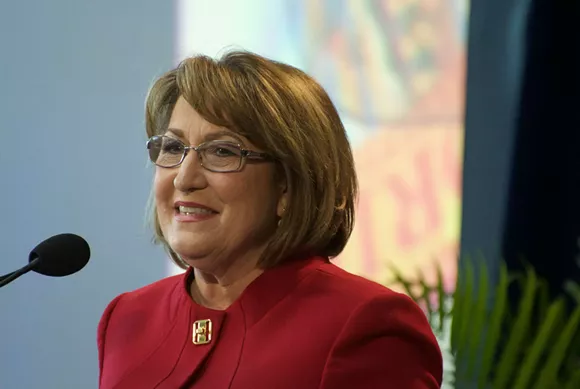 Photo by Monivette Cordeiro
Orange County was marked by economic growth and tourism milestones in 2016, but Mayor Teresa Jacobs says it was also defined by the massacre at the gay nightclub Pulse and the "culture of compassion" that arose after the tragedy.
Speaking at the annual state of the county address, Jacobs says June 12, 2016, showed the community and the world the strength of unity as it rallied around the families of the 49 victims at Pulse and worked to support survivors.
"The world watched as we mourned and rallied with the common goal of supporting our LGBTQ and Latinx communities and all of those affected," she says. "Through our response to the greatest attack we've ever withstood, the greatest loss we've ever suffered, we learned something incredible about ourselves: We know that our culture of collaboration has allowed us to accomplish so much – but we discovered that it is our culture of compassion that makes Orlando such an incredible place to live."
Under the Coca-Cola Orlando Eye, the county mayor touted some of the county's achievements, such as dropping the unemployment rate to 4.2 percent from a high of 11.3 percent during the recession; adding 127,000 jobs; investing $650 million in downtown's venues; and a population increase of 15 percent. Orlando, notorious for its low-wage market, has seen increases in wages, Jacobs says, with
Forbes
magazine predicting it will be second in the nation for wage growth.
"Almost all economic indicators for Central Florida are strong," she says. "Two areas in particular, housing and tourism, have shown a remarkable ability to rebound. But the story that these indicators don't tell is the story that local governments throughout the state have lived. For instance, property tax collections – by far our largest source of revenue – fell by 24.8 percent during the recession and just this year, they have returned to their pre-recession levels."
Still, there are some things left to work on. Orlando has long been known as a dangerous place for pedestrians, and Jacobs says the county has spent about $1 million on pedestrian improvements. Law enforcement officials are also working to fight the local heroin epidemic and have saved 80 lives since they started carrying the life-saving drug naloxone. Jacobs adds that the county is also exploring housing solutions after a study came out that ranked the region close to the bottom for its supply of affordable housing.
"This has been an unforgettable year for Central Florida, with tremendous highs and heartbreaking lows," Jacobs says in closing. "We have learned that only by choosing to face our future together and with confidence can we build a sustainable future for our children, grandchildren and generations to come."
Photo via Orange County government
After the speech, Jacobs, Orlando Mayor Buddy Dyer, Pulse owner Barbara Poma and other local officials joined hands under the Orlando Eye to make a heart in support of the
#letsALLconnect
movement, which is a peace demonstration with the goal of human connectivity. The heart-shaped chain of people who put their hands together on Friday was the largest gathering of the worldwide movement for unity.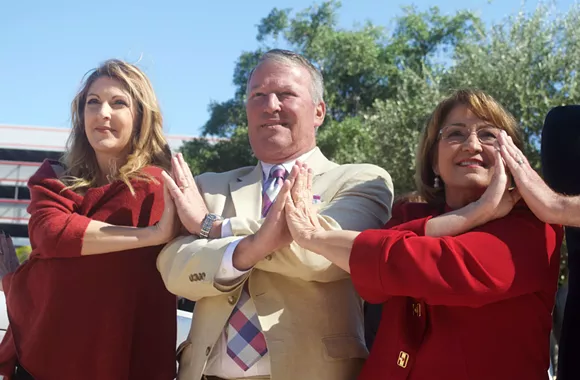 Photo by Monivette Cordeiro