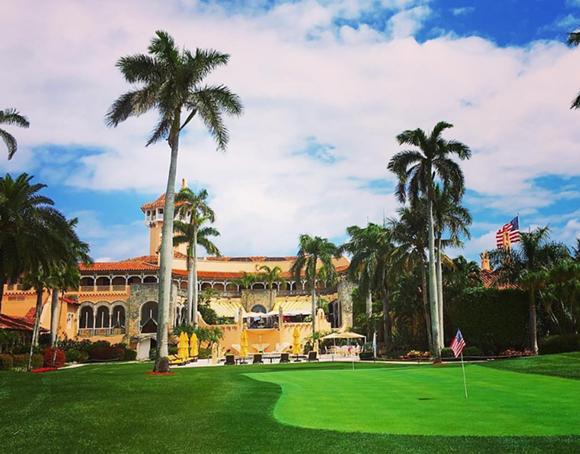 Photo via aix5e/Instagram
Like a bar tab that never closes, President Donald Trump's costly visits to Florida keep adding up, and as usual local taxpayers are the ones that have to foot the bill.
According to the
Palm Beach Post
, Trump's four-day visit to Mar-a-Lago last weekend, which included a summit with Chinese President Xi Jinping, cost Palm Beach taxpayers $1.5 million.
Palm Beach County Sheriff Ric Bradshaw says his agency spent the money assisting the Secret Service in protecting both Trump and Xi.
"It was a large operational undertaking. … When you've got two of the largest leaders of the world in one spot, the security is something you've got to pay attention to," Bradshaw told the
Post
.
Xi's large Chinese delegation stayed at the Eau Palm Beach Resort & Spa in Manalapan, while Trump stayed at Mar-a-Lago, meaning the police had to to cover two presidential security details and two sets of motorcades.
Bradshaw says that his agency also had to handle around 2,000 protestors who came to the area in response to the summit, making six arrests.
With this latest trip, the Palm Beach Sheriff's office has racked up $3.5 million in total expenditures since Trump's November victory, says Bradshaw.
In efforts to help taxpayers, Palm Beach commissioners have proposed making Mar-a-Lago a
special taxing district
that would cover Trump's security costs.
"We're very honored to have the president here, but at the same time, his travel here is such high frequency he's not visiting Palm Beach County – he's governing from it," Palm Beach County Commissioner Dave Kerner told
Money
magazine. "Whatever our priorities are, the taxpayers didn't pay this money to us to protect the president."
In the meantime though, Trump continues to remain
oblivious
to the burden on Florida taxpayers.
He's even returning this weekend to Mar-a-Lago between April 13 and 16 for the Easter holiday.