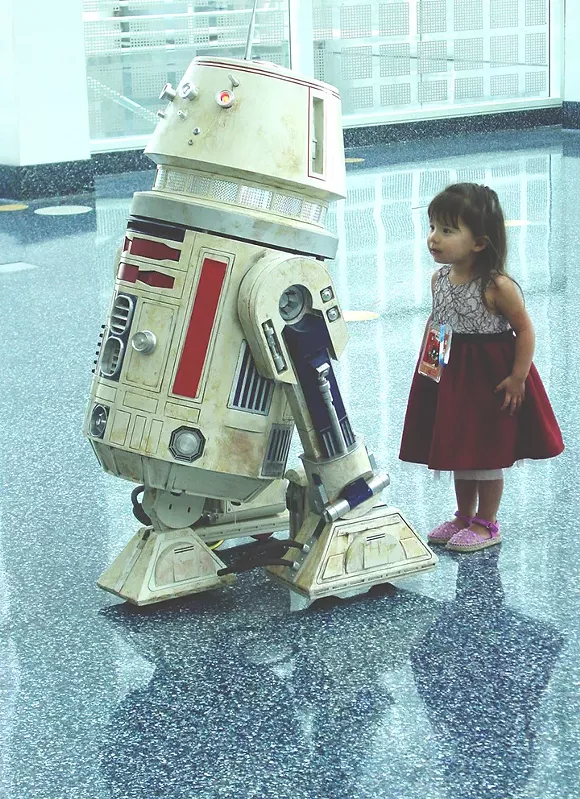 The most adorable photo we'll ever publish.
Convention season is upon us, and this year's slate starts off with a jump into hyperspace. Star Wars Celebration, a recurring convention (though not necessarily annual) devoted to all things Star Wars, lands at the Orange County Convention Center for the first time since 2012. This iteration of the convention marks both the 40th anniversary of the original 1977 release of
Star Wars
, as well as the upcoming release of the second film in the latest trilogy,
Star Wars: The Last Jedi
. Pretty much anyone who's attached to Lucasfilm's pop-culture behemoth will be there, including company president and executive producer Kathleen Kennedy,
The Last Jedi
director Rian Johnson, and Luke Skywalker himself, Mark Hamill, who will present a tribute to the recently departed Carrie Fisher on Friday evening. If the Force gets too strong for you, stop by the autograph booths to chat with the greatest television hero ever, Buffy Summers (Sarah Michelle Gellar), who will be there due to her voice work on
Star Wars Rebels
. With four days full of panels, screenings, droids, workshops, shows, exhibits and every damn cosplayer you can shake a lightsaber at (don't actually do that), you'd better have a good blaster (or Wookiee) at your side, kid.
10 a.m.-7 p.m. Thursday-Saturday, 10 a.m.-5 p.m. Sunday | Orange County Convention Center, 9800 International Drive |
starwarscelebration.com
| $75-$85