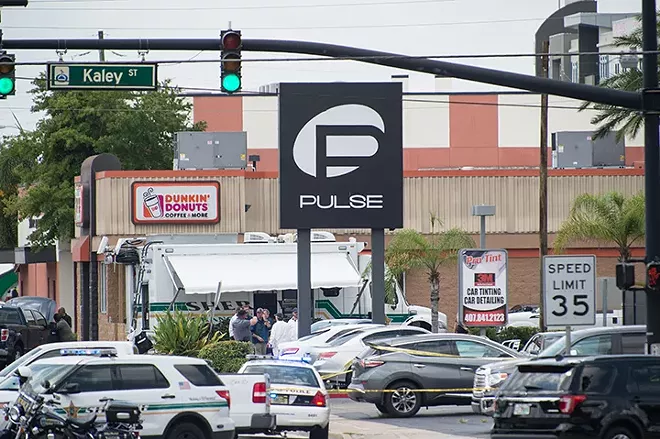 As they waited to be rescued from the gunman for hours, 13 people died inside the bathrooms at the gay nightclub Pulse.
Twenty victims were killed on the dance floor after Omar Mateen began a shooting rampage during the club's "Latin Night" on June 12, 2016 that ultimately ended in the deaths of 49 people.
The new details about the Orlando massacre come from a 78-slide presentation that Orlando Police Chief John Mina has given about the mass shooting to police departments around the world. The report offers a more complete timeline of the tragedy but does not reveal if any club goers were shot by police as law enforcement officers tried to stop the 29-year-old security guard from Fort Pierce. The
Orlando Sentinel
reports Mina does not know whether "civilians were hit by police gunfire." The Florida Department of Law Enforcement is also reviewing the police response to the Pulse shooting.
Photo via Orlando Police Department
Most of the details in the presentation have already been released to the public, but there is some new information.
When Mateen entered Pulse at 2:02 a.m. with a military-style rifle, he immediately started shooting at around 300 people as they partied. Three minutes later, police noted the rapid gunfire had stopped. Officers entered the club through the patio around 2:08 a.m. and began rescuing victims. Because there were so many bodies on the floor, one officer was overheard on police footage saying, "If you're alive, raise your hand." Twenty-three victims died on the dance floor and stage area, while two victims died in the front lobby and patio.
Victims were taken to a triage area across from Pulse at Einstein Bros. Bagels on Orange Avenue where two more people died. Nine victims managed to get out of the club but died at Orlando Regional Medical Center.
The report confirms police officers had cornered Mateen to the bathrooms 10 minutes after the shooting began. The gunman and some of the hostages inside the bathroom told police Mateen had bomb vests he planned to put on victims and explosives in his car, though no bombs were found. During this time, Mateen also pledged his allegiance to the terrorist group ISIS during a phone call with a hostage negotiator.
Three hours after the first shots were fired, police breached into the bathrooms using explosives and an armored car around 5 a.m. Eighteen victims were rescued from the bathrooms, though 13 victims had perished as they waited. The breach drew Mateen out of the bathroom and into the hallway, where he fired multiple times toward law enforcement officers and hit one OPD officer's Kevlar helmet. Police returned fire and ultimately killed Mateen around 5:15 a.m.