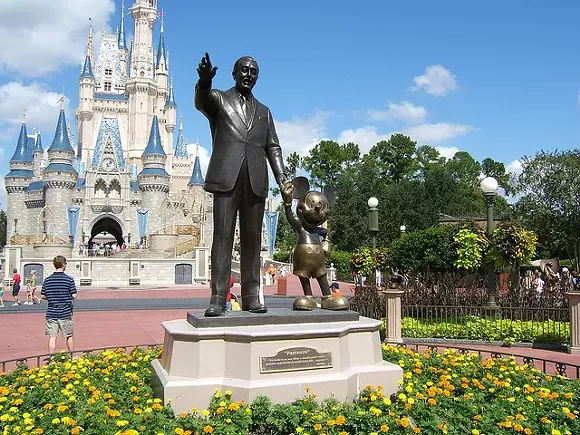 Florida will continued to be represented by Confederate Gen. Edmund Kirby Smith in the U.S. Capitol because one Central Florida lawmaker thinks there are just not enough statues of Walt Disney.
Photo via Florida House of Representatives
The
Associated Press
reports state Rep. Scott Plakon blocked a bill to replace Smith's statue in the National Statuary Hall with
Marjory Stoneman Douglas
because he says the process was flawed. But another lawmaker says the Longwood Republican's real reason for stopping the replacement is because Plakon is "really stuck on Disney" to represent the Sunshine State.
"If it's only up to me, I would say scrap what we've done," Plakon told the
AP
.
Aside from the Confederate general, Florida is currently represented in the hall of historical figures by John Gorrie, widely considered the father of air conditioning. The state Legislature voted last year to replace the general following a backlash against Confederate symbols after the fatal shooting of nine African-American worshippers at a South Carolina church. Plakon was against that bill as well.
Lawmakers were provided
options
to replace Smith's statue from three people approved by the Great Floridians Committee, including Douglas, author of
The Everglades: River of Grass
and environmentalist who helped create the Everglades National Park; George Washington Jenkins Jr., founder of Publix grocery stores; and
Mary McLeod Bethune
, an educator and civil-rights activist who founded a school for black girls that eventually became Bethune-Cookman University.
Plakon, who heads the committee that would have considered a bill to replace the statue with Douglas, refused to put the measure on the committee's agenda. Because the committee isn't scheduled to meet again this session, the Confederate statue will probably remain at the Capitol for at least another year.