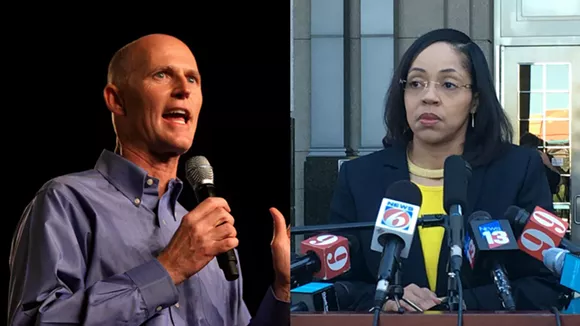 The Florida House is predictably backing Gov. Rick Scott in state court after Orange-Osceola State Attorney Aramis Ayala sued him for removing her from 23 murder cases.
Lawyers for the House
asked
the Florida Supreme Court last week for permission to file an amicus brief in support of Scott that would "address the exclusive role assigned by the Constitution to the Legislature in the setting of public policy for the State and the ill effects that flow from the refusal of a state officer or agent to enforce a duly enacted legislative policy based on his or her disagreement with the rectitude or efficacy of that policy." The court allowed the House to file the brief on Monday.
Ayala was removed from almost two dozen death-penalty cases by Scott earlier this month after she announced in March that she would not use her prosecutorial discretion to seek the death penalty for murder suspect Markeith Loyd or any other case during her administration. Loyd is accused of killing his pregnant ex-girlfriend Sade Dixon and Orlando Police Lt. Debra Clayton. Since then, she's been on the receiving end of the wrath of the governor, Attorney General Pam Bondi and Republican lawmakers, like House Speaker Richard Corcoran. Last month, he
asked
Scott to suspend Ayala because she was in violation of Florida's constitution. Republicans in both the House and the Senate have pushed to cut Ayala's budget by more than $1 million.
Ayala has filed
two lawsuits
against Scott – one in the Florida Supreme Court and one in the federal court of the Middle District of Florida. In the state court case, Ayala is
asking
the governor to prove what constitutional authority allowed him to remove her from the 23 cases and re-assign them to Ocala-based State Attorney Brad King. Scott has said he removed Ayala because she "won't fight for justice."
"Scott nevertheless appears to claim constitutionally-granted power to replace Ayala on cases as he sees fit," the lawsuit says. "No such power exists, and an unlimited right to replace elected state attorneys would offend both the constitutional grant of prosecuting authority to independent prosecutors and Florida's separation of powers."