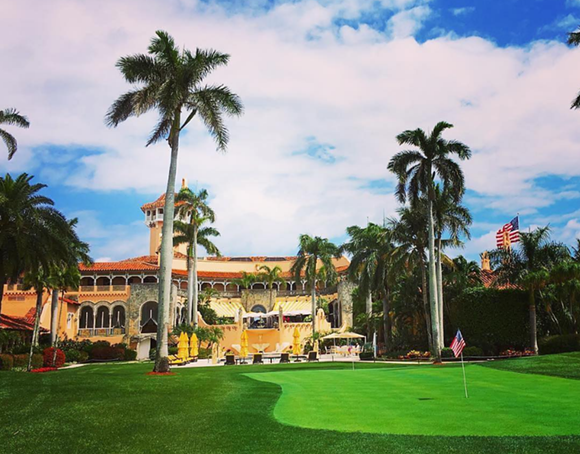 Photo via aix5e/Instagram
President Donald Trump is expected to sign an executive order today
encouraging federal agencies to "take prompt action to crack down on fraud and abuse" within the U.S. immigration system to "protect workers."
According to the
New York Times
, Trump's executive order, entitled "Buy American, Hire American," puts pressure on the Department of Labor, the Department of Justice, the Department of Homeland Security and the State Department to overhaul the H-1B visa program.
Essentially, the goal of this executive order is to make it harder for companies to hire low-wage, foreign workers – something Trump does at many of his properties, including Mar-a-Lago.
It's important to point out that Trump has been critical of the H1-B program and not H-2B, which applies to seasonal workers, and for good reason. Last year, Trump was approved to hire 64 foreign workers at Mar-a-Lago, reports the
Palm Beach Post
. Most of these jobs include everything it takes to run a resort: cooks, maids, waiters, etc.
Trump Winery, owned by the president's son Eric,
also applied for foreign workers
through the H-2A visa program to hire grape pickers.
In both situations, Trump's properties claimed it was too difficult to fill these positions.
However, as the
Post
pointed out, despite Mar-a-Lago applying for thousands of work visas, it has only asked for help finding a local employee once in the past decade, and it was for a single banquet server.
The insane thing here is we're not even going into all the other Trump products made oversees, like his "Make America Great Again" hats, Ivanka's entire clothing line, Trump's line of suits and ties, Trump's bottled water, etc.
You can
read the whole list of Trump products not made in the U.S. here
if you really want to feel extreme rage.
To be fair, it would appear that Trump's executive order is mostly focused on keeping manufacturing jobs in America, which is great, but clearly it's not about anything that would affect his businesses.