Photo via City of Orlando
Orlando's city flag is getting a much needed facelift, and the results are in, at least for the popular vote.
With 1,474 votes tallied, the leading design was a flag that features a white "O" shaped as both a rainbow and a reflection in the water, with a light blue Lake Eola fountain in the middle of it, the
Orlando Sentinel
reports.
Though, once someone points out that it looks like a whale tail, or a whale squirting water from its blowhole, you will never be able to unsee it.
Although this flag won the popular vote, it still needs to be reviewed by the city's Flag Design Review Committee before it officially becomes Orlando's new flag.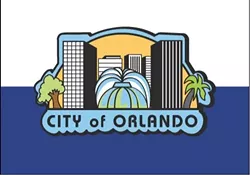 Photo via City of Orlando
The current Orlando flag
Each flag design included a few sentences about its symbolism. Here's how the leading flag's designer described this submission:
"The upper arc of the 'O' symbolizes both a rainbow and unity. The reflection in the water closes the 'O' and closes the circle of unity. The blue of the fountain and the white of the 'O' symbolize hopeful images and stand out on the blue flag."
Coming in second was the swan flag, which had a total of 922 votes.
Photo via City of Orlando
The city's 10-member Flag Design Review Committee will meet this Friday, April 21, to determine the final design of the flag.
Whatever design they choose, at least it will be a much-needed update to the city's current flag.