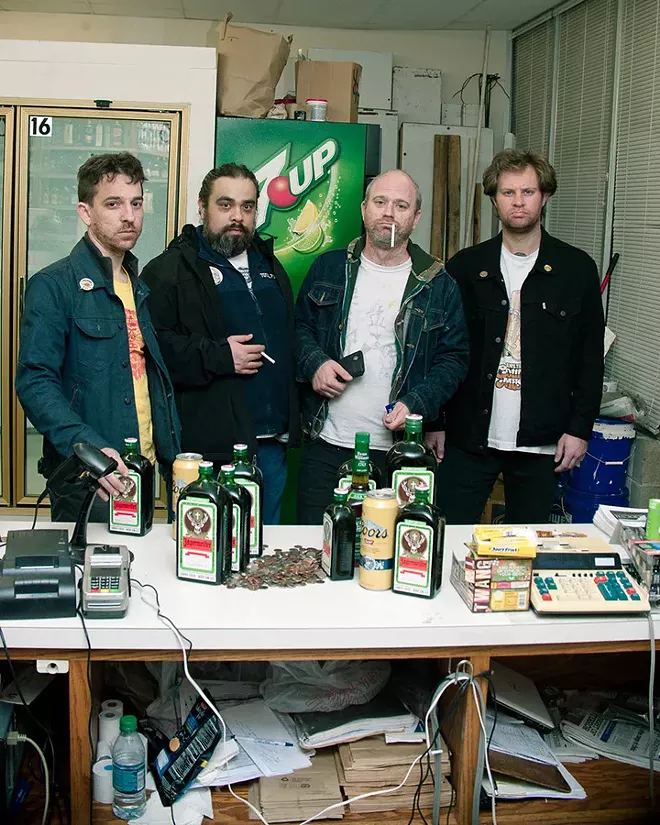 It's largely a given locally that if you are at all involved in or a spectator of the local DIY/punk scenes, then you're aware of area slime-punkers Golden Pelicans. What sometimes gets lost in this familiarity is that large swathes of the country are now aware of them as well. Following up on a well-received live 7-inch on Third Man Records recorded while on tour – that's Jack White of the White Stripes' boutique label, yes – the Pelicans are releasing their newest LP,
Disciples of Blood
, not on drummer Rich Evans' scuzz-ward Total Punk but on big-time scum merchants Goner Records (Jay Reatard, King Khan & BBQ Show), and Friday night is the release show after a string of out-of-town shows, including an appearance at the Cheap Heat Fest. The salient facts about
Disciples of Blood
are this: The Golden Pelicans are a lethal combo of juvenile delinquent sass as practiced by Bonn Scott-era AD/DC and the MC5, and this album is a perfect primer for new listeners. On the aesthetics front, Disciples has Medusa-inspired cover art, and that is an eternal win in our books. Their time is now.
with Sueves, the Woolly Bushmen, Bubble Boys | 8 p.m. Friday, April 21 | Will's Pub, 1042 N. Mills Ave. |
willspub.org
| $7