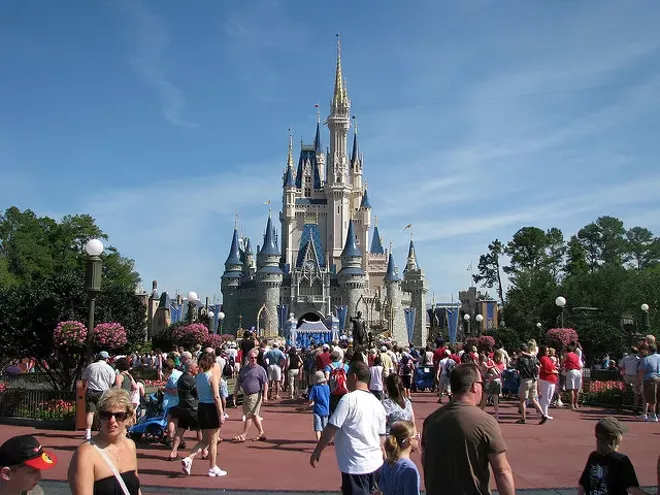 Photo via Chris Harrison on Flickr
With the 50th anniversary coming up in just a few years and Disney World in an all-out theme park battle like never before, Disney appears to be looking at all options.
At this point, nothing is off the table. Rumors have been bubbling about new concepts, including perhaps a Tron ride in Tomorrowland or many former proposals. A few of these older proposals include the
Western River Expedition
– a boat ride similar to Pirates that went through the old-timey West – and Fire Mountain, a South Pacific-themed coaster ride that would be built inside a volcano-like show building.
Well, it now looks like Disney might be reconsidering the old Fire Mountain concept.
On
a recent episode
of The Disney Dish podcast, industry insider and media juggernaut Jim Hill shared details of a project currently being tossed around at Disney that would involve dusting off the "shovel-ready" volcano coaster.
To add to this, there has been
chatter
on various Disney World message boards in recent months regarding the project. Most of this chatter began when height balloons were spotted behind the Jungle Cruise area in Adventureland in mid-March.
According to Hill, Disney is now looking to bring the dormant volcano-themed attraction to life along the shore of Seven Seas Lagoon with guest access from inside Adventureland and a possible
Moana
tie-in.
The ride system for the volcano-based
Fire Mountain
attraction has changed over the years. At one point, the coaster was designed to be a flying coaster similar to Manta. With a height limit well over a foot higher than that of Big Thunder Mountain, using the flying coaster would limit the family appeal of the attraction. It's likely that in the current pitches Disney is keeping the volcano show building, while updating the majority of the ride inside. The demonic volcano from
Moana
would be featured prominently, according to those sharing details on the new attraction.
With a volcano being the central focus of Universal's new water park, Disney may also be looking to reclaim some of that spotlight, which they formerly held with their mountain weenie at Typhoon Lagoon. A volcano that sits near the castle with views from the Polynesian would trump nearly any theme park skyline in the region.
The village concept does line up with other recent Adventureland rumors, including Disney looking to add another signature dining option in the tropical-themed land. This new village would be visible from the train, which may be the new views that have been rumored as part of the
50th Anniversary updates
. This may also help explain the rumors of some updates happening to the Jungle Cruise.
To access the shoreline where the volcano show building is rumored to be, guest would have to cross the backstage road used for the parades. There's no word on how Disney may address this intersection, but it may include a new Main Street bypass, similar to the one opened in recent years between Main Street and Tomorrowland. The original plan had two different variations, with one including a small South Pacific-themed village expansion of Adventureland.
Moana
will
likely be moving
to
Magic Kingdom
much earlier than the 2021 rumored opening of the new ride. It's all but confirmed that a new
Moana
meet-and-greet will be opening in Adventureland before the summer crowds hit this year. This new meet-and-greet might even take over the cult favorite
The Enchanted Tiki Room
audio-animatronic show. The tiki bird animatronic is rumored to be heading to a new signature dining restaurant coming to Adventureland, possibly within the Moana-based South Pacific village expansion. Until that restaurant opens, the birds may be moved to the Skipper Canteen.
There's no word on if this e-ticket would replace the
Tron Tomorrowland attraction
proposal or be in addition to it. Ironically, the first time Fire Mountain was proposed it was part of a two E-ticket expansion to
Magic Kingdom
. With crowds ever increasing at
Magic Kingdom
, already the most visited theme park in the world, the idea of two new additions isn't unlikely.
But with billion-dollar expansions already happening at Hollywood Studios and
Animal Kingdom
, and with a rumored one heading to Epcot, it's really a question of how much money Disney wants to spend.