Those who visited Julie's Waterfront of late likely weren't surprised when the mainstay on Lake Jennie Jewel shuttered earlier this year.
But a new and dedicated group of investors is poised to erase those memories of mediocrity by opening the Waterfront tonight.
The kitchen, headed up by chef/partner Pat Kennedy, who revamped the fare at WaiTiki in the Wall Street Plaza, presents a menu (see below; click to enlarge) of casual fare. Executive chef Matt Wall, formerly of the North Quarter Tavern, will do most of the heavy lifting with menu development and cooking, though Wall does intend to open his own place sometime down the road.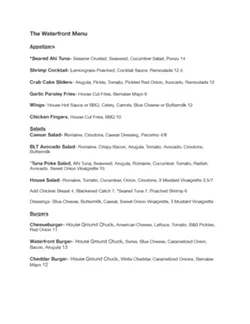 Waterfront's other partners are Ryan Davis, Kevin Little and Kyle Alberts, who run such downtown joints as the Other Bar, Harry Buffalo's and Stagger Inn.
Kennedy said that they've made some cosmetic changes and spiffed the place up a bit, but the divey mien remains.
The Waterfront, located at 4201 S. Orange Ave. (407-866-0468), will be open from 11 a.m. to 2 a.m. every day, with the kitchen operating from from 11 a.m. to 11 p.m. A Sunday brunch is also in the works.
Follow the Waterfront on
Facebook
and
Instagram.