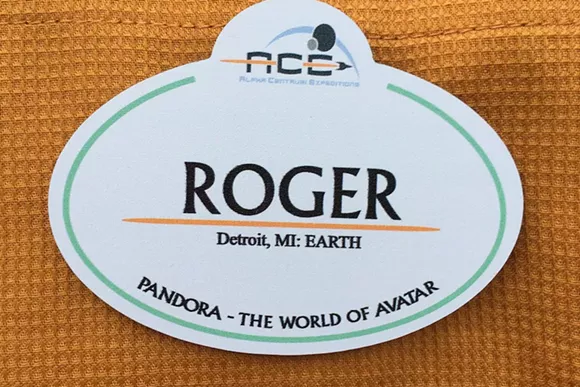 As we approach the opening of Disney's Pandora: The World of Avatar, the company has been on a nonstop media blitz. On a near-daily basis, Disney has been steadily parceling out bits of mundane information about everything from rides to food to theming.
Now, we finally get that big juicy info on the employee nametags.
In the their latest
blog
post, entitled "Countdown to Pandora – The World of Avatar: Cast Members Prepare to Bring Pandora to Life," Disney gives us the hot deets on these sick new castmember 'tags.
From Disney:
Here's a first look at the special nametags for cast members representing Alpha Centauri Expeditions (ACE), a futuristic travel company that prepares visitors from Earth for their exciting adventure to Pandora. You might also notice that cast members who are "Earning their Ears" may be wearing a ribbon that features the Na'vi word for student: Numeyu.
Oh, hell yeah.
As of now, there's no word on whether the nametags attach to uniforms with some sort of pin mechanism or a magnet, but we will update this post when this information is available.
See these nametags for yourself when Disney opens Pandora: The World of Avatar in Animal Kingdom on May 27.