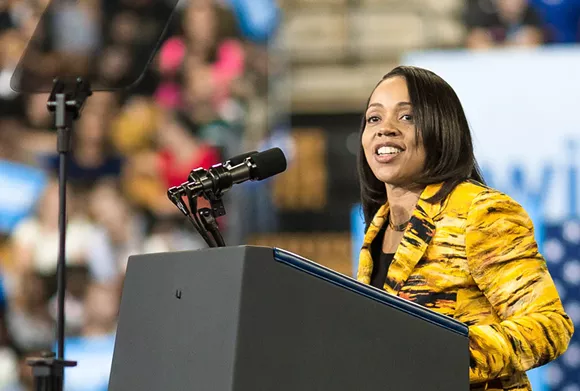 Orange-Osceola State Attorney Aramis Ayala says Gov. Rick Scott flip-flopped on whether to interfere with the decisions made by state prosecutors.
Ayala made the case in
court filings
Monday for her quo warranto case against Scott in the Florida Supreme Court. Ayala filed a lawsuit against Florida's governor after he removed her from 23 murder cases and assigned them to Ocala-based State Attorney Brad King. Scott made the decision after Ayala announced she wouldn't pursue the death penalty for murder suspect Markeith Loyd or any other case during her tenure. Ayala has argued that Scott does not have the power to remove her, but the governor and Attorney General Pam Bondi
said
in court filings last month that Scott's orders "have the purpose and effect of ensuring rather than impeding the exercise of prosecutorial discretion." The governor is being supported in the lawsuit filed in state court by the Republican-led Florida House of Representatives, the Florida Prosecuting Attorneys Association and other victims' families. Ayala is being backed by former prosecutors, retired state Supreme Court justices and civil-rights organizations.
Ayala says Scott has acknowledged in the past that "he had no power to forcibly intrude on state attorneys," the brief says. On four occasions, Scott's office told four citizens who complained to him about cases or investigations that he couldn't intervene because "each state attorney is an elected
official charged with the duty to determine how to prosecute any crime committed within his jurisdiction." Back then, Scott's office determined that local prosecutors were elected officials who "answer to the voters of their individual jurisdictions."
"Either Scott was being less than honest with these citizens or his view has
suddenly changed," the court filing says. "In his opposition, Scott now claims that he can reassign state attorneys against their will whenever he wants, and for whatever reason he wants, as long as doing so is not 'without any reason whatsoever.' How does that square with the Constitution's directive that each state attorney 'shall be the prosecuting officer of all trial courts in [her] circuit,' or with the traditional notions of independent prosecutors? It doesn't."
In the court filings, Ayala argues that the governor violated "fundamental Florida law."
"Scott complains throughout his brief that Ayala has presented the court with 'novel' arguments," the brief says. "But the only reason for novelty is that Scott has interfered with an elected independent prosecutor in a way the State has never seen before."