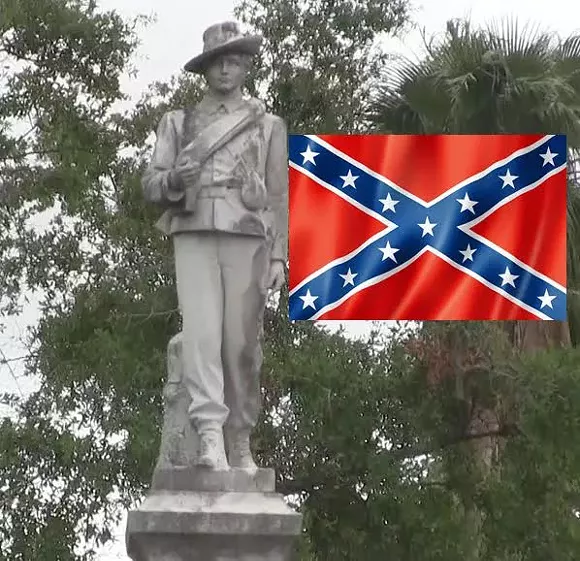 Orlando residents are calling for the removal of a 100-year-old Confederate soldier statue at Lake Eola Park before
Orlando United Day
on June 12.
The
monument
was placed in the public park in 1917 by the United Daughters of the Confederacy to honor "soldiers, sailors and statesmen of the Confederate States of America." David Porter, a local blogger and former columnist for the
Orlando Sentinel
, calls it an "icon of white supremacy" and a racist remnant of slavery. He is asking the City of Orlando to remove it before June 12, the day of a ceremony at Lake Eola to honor the 49 victims of the mass shooting at the gay nightclub Pulse.
"After last year's Pulse massacre, local officials stood up against hatred and saluted diversity," Porter says in a video. "Yet the Confederate statue remains in Lake Eola. Orlando leaders need to ask themselves, 'Do you support white supremacy over people of color?'"
Porter and others calling for the removal of the statue will
address
the Orlando City Council at the May 15 meeting at 2 p.m.
This isn't the first time the city has been asked to remove this statue. In
2015
, a petition by Organize Now asked the city to move the monument from Lake Eola, which sparked counter-petitions asking officials to keep it there. City staff was directed to explore options for the future of the statue, a process which is still ongoing, says Cassandra Lafser, spokesperson for the city.
"This is important to the city and something we have been researching over this time," Lafser says in a statement. "As soon as we have any updates, we will let you know, but at this time we do not have any specifics."