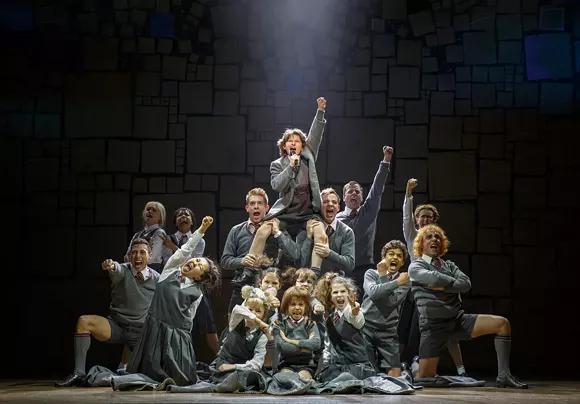 Joan Marcus
The cast of Matilda: The Musical, playing now through May 14 at the Dr. Phillips Center.
British fantasy literature has always had a flair for torturing tykes, but if you think that Harry Potter had a hard time of it, wait until you meet the star of
Matilda: The Musical
, the Broadway tour currently playing Orlando's Dr. Phillips Center. Like the famous boy wizard, Matilda Wormwood is a precocious kid who has to hide her hidden talents from her vulgar parental units (Darcy Stewart and Matt Harrington). But when Matilda is shipped off to school, it isn't to the magical halls of Hogwarts, but the hellish misery of Crunchem Hall Elementary, which is ruled with an iron fist by Headmistress Trunchbull (Dan Chameroy, chewing scenery like a supersized Ed Grimley).
The only lights in Matilda's life are her sympathetic teacher Miss Honey (Jennifer Bowles), and Mrs. Phelps (Keish T. Fraser), the librarian who longs for Matilda's tales of an Escape Artist (Justin Packard) and his Acrobat wife (Kim Sava). With her rallying cry, "That's not right!," Matilda applies her finely tuned sense of justice to battling bullies in Dennis Kelly & Tim Minchin's delightfully twisted family musical.
Based on the classic novel by Roald Dahl,
Matilda
's world is even more dismal and despairing than in the author's more famous Willy Wonka stories, featuring adults who have no qualms against beating children for daring to read. At least when Harry Potter got locked in the Dursleys' cupboard, it wasn't filled with spikes and broken glass like Trunchbull's "chokey."
What keeps this stage version from becoming a sadistic slog is the swiftly paced direction by Matthew Warchus, with a strong assist by choreographer Peter Darling's peppy pedestrian movement. The cast executes every quirky gesture with polished precision, and the chorus of child actors match their adult counterparts step for step. Designers Rob Howell and Hugh Vanstone bring constant visual variety to the stage, which seems to have exploded from a set of hand-painted Scrabble tiles, integrating swings, slides, shadow puppets and even scooters into the action. And illusionist Paul Kieve contributes some sadistic stunts that highlight the production's "living storybook" style.
But even without the impressive theatrical tricks,
Matilda
would be well worth watching for its pint-sized leading woman, played at the press performance by Gabby Gutierrez (in rotation with Jaime Maclean and Jenna Weir) with plucky passion and well-articulated projection far beyond her young ears. Her magnetic miniature presence more than makes up for the show's many flaws, from an overamplified and mostly unmemorable score, to a jarring 11th-hour shift into the supernatural. And while there's a moment near the climax when the show nearly dares to go devastatingly dark, it turns around with a heartwarming ending that's a touch too twee for the delicate tonal tightrope Matilda had balanced on until then.
Finally, perhaps I've simply been reading the news too much, but much of
Matilda
struck me as an on-the-nose allegory for our current Presidential administration, despite being based on a 1988 British novel. Matilda's Mom gets a show-stopping dance number, where she proclaims, "What you know matters less than the volume with which what you don't know is expressed," which could be Sean Spicer's official motto; Trunchbull's pain-filled pedagogical philosophy would probably earn Betsy DeVos's approval; and Matilda's Dad is even involved in shady business dealings with Russians. If you go to the theater to escape politics, you've been warned. But if you are looking for that rare family-oriented production that entertains adults without pandering to younger viewers (I'm looking at you,
Little Mermaid
),
Matilda
lets you have your cake and eat it too.
Matilda: The Musical
8 p.m. Saturday, May 13; 1 & 6:30 p.m. Sunday, May 14
Dr. Phillips Center Walt Disney Theater
445 S. Magnolia Ave.
844-513-2014
$33.75-$128.75
drphillipscenter.org