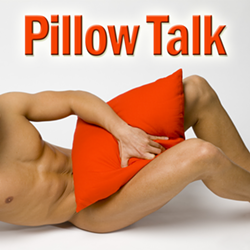 Director Jamie DeHay's previously staged
Pillow Talk
at the 2013 Fringe won a Patron's Pick award and had a successful follow-up run at the Parliament House. This year, he's revived Peter Tolan's comedic one-act with a new cast, and despite the intervening years, this show's take on physical intimacy among hetero men remains relevant and funny.
This time around, Logan Ayala is ideally cast as laconic dude-bro Aaron, the more secure of the two road-tripping buddies who must bunk down for the night in a single bed. Jonathan "Gyo" Gamble tends to overplay Doug's neuroticisms as he works through his issues, but bravely bares his biggest asset during the final moments, a move calculated to appeal to the Savoy-sponsored show's gay fans.
Last time, I noted that DeHay's direction seemed a little slack, so I'm happy to say he's picked up the pace this year, keeping the quips flying and making fun use of the physically cramped quarters. As a familiar quantity,
Pillow Talk
is no longer the Fringiest of picks, but it's still a reliable source of sitcom-style laughs among a Festival that seems to be taking a darker turn this year.
Pillow Talk
C.P. Productions
Yellow Venue
Thursday, May 18, 9:15 PM
Saturday, May 20, 11:59 PM
Sunday, May 21, 3:00 PM
Wednesday, May 24, 7:30 PM
Thursday, May 25, 10:30 PM
Friday, May 26, 7:00 PM
Sunday, May 28, 11:59 PM
tickets