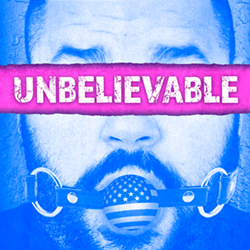 Ever since his first
Field Guide to the Gays
in 2013, Logan Donahoo has been filling Fringe houses with his hilariously hyperactive multimedia seminars on sexuality. But (in his own words), he's been an activist longer than he's been a slut, so this year Donahoo is setting aside questions about anal sex preparation and instead addressing an even messier issue: how progressives can survive the Trump administration without dying of despair.
Donahoo, directed again by Rob Ward, takes the same slideshow-driven format they perfected in prior productions and turns it to explicitly political topics (which were always implicit in his earlier shows). He starts by defining the hydra of ignorant -isms that we're confronting, then outlines a four-point plan for fighting them constructively over the next four years. With such serious subject matter,
Unbelievable
can't be the nonstop laugh-riot that Donahoo's earlier shows were. The fast-paced projections are always fun, and he cooks up audience participation games (complete with prizes) and illustrated storybooks to make subjects like "proper protest sign design" more palatable, but much of the show still feels like a political polemic dressed up with PowerPoint.
If you're already on the left — likely the majority of Fringe patrons — Logan's talk may come as a welcome tonic after our first 100-plus days in the Bizarro universe, as he provides practical actions you can take to combat that crushing feeling of helplessness. But Donahoo is preaching to the choir; despite briefly bashing the Green Party, and giving a nod to finding common cause with Libertarians and Republicans on individual issues, he's more interested in cat-calling conservatives than converting them. Even if you are on Logan's side, the show's uneven pacing and unceasing sweeping generalizations about "old white men" — which I suppose now includes me — may make you wish he'd instead focused telling his personal story of activism (his fascinating work with the Sisters of Perpetual Indulgence barely gets a passing mention) instead of giving marching orders to the masses.
Unbelievable
Logan Donahoo
Pink Venue
Thursday, May 18, 9:00 PM
Saturday, May 20, 11:59 PM
Sunday, May 21, 4:45 PM
Tuesday, May 23, 9:15 PM
Thursday, May 25, 10:00 PM
Saturday, May 27, 10:15 PM
Sunday, May 28, 10:00 PM
tickets