Splitsville at Disney Springs is consistently one of the highest-rated dining options at Walt Disney World, despite the fact that it's technically a bowling alley.
The bowling alley with a gourmet menu is a favorite spot for families to hang out on rainy days or in the evenings after the parks close. This is ideal for Splitsville, except for the fact that the majority of the dining area is outside. This means when all those families flood the bowling alley on rainy days, a table is harder to find than a day of reservation at Cinderella's Royal Table.
Now Splitsville is enclosing the former outside balcony area on the second floor. This will greatly increase the indoor square footage of the non-bowling area in Splitsville. This newly enclosed space will also allow Splitsville to rent it out regardless of weather.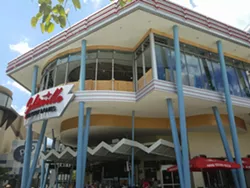 The second-floor outdoor dining area has been a signature feature of the Splitsville building since it first opened as a Virgin Megastore in 1997. The second floor of the Virgin Megastore featured the Coco Moka Café, with a large outdoor patio that hung out over the entrance of the store. When Splitsville was announced in 2011, the press release confirmed the bowling alley would continue the outdoor dining. The
press release
stated that the new bowling alley would have "30 lanes, two kitchens, a dramatic balcony, ample outdoor seating, billiard tables and live entertainment."
The balcony was dramatically altered from the Virgin Megastore one, switching out the large one that was perched precariously above the old entrance for a covered curving one.
While the outdoor dining on the second floor is now being enclosed, those who want to enjoy some outdoor dining in between bowling games can still enjoy a large outdoor patio on the ground floor.