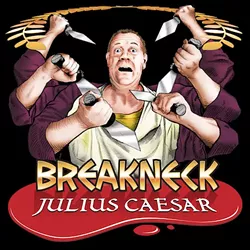 Ten-time Fringe artist Timothy Mooney has previously tackled Moliére, Hamlet, and the words of Socrates with his idiosyncratic editing, but in 2017 his choice to accelerate Shakespeare's most political play seems especially apt. If you think senators backstabbing their rivals is something recent, let Mooney reacquaint you with the Bard's Roman tragedy of tyranny and rebellion, minus all the boring bits.
Mooney is like the high-school English teacher you always wished you had, crossed with a living CliffsNotes guide. He inhabits every role from Calphurnia to Cicero to Cassius (pretty much everyone's name starts with a C), switching between characters simply by shifting the draping of his toga. Mooney attacks Shakespeare's work, from historical backstory through the bloody final act, with a wild-eyed energy usually only exhibited by amphetamine addicts, but he doesn't condense this epic by rushing roughshod over its poetry. On the contrary, his elocution is so well-enunciated that it illuminates the archaic language for the modern ear, elucidating familiar but frequently misunderstood phrases like "Brutus was an honorable man" and "We must take the current when it serves."
Best of all are Mooney's snarky asides, fourth-wall-shattering footnotes that poke fun at the play's oddities, such as Caesar's irritating habit of referring to himself in the third person, and that infamously anachronistic chiming clock. Even if you usually fall asleep during sword-and-sandal sagas, lend Mooney your ears for this hour of electrifying edutainment.
Breakneck Julius Caesar
Blue Venue
Wednesday, May 17, 8:00 PM
Friday, May 19, 5:30 PM
Saturday, May 20, 3:00 PM
Sunday, May 21, 5:30 PM
tickets