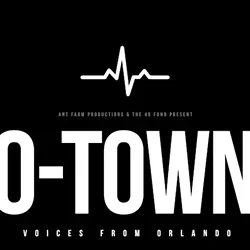 Forty-nine people were murdered at Pulse Nightclub last June 12, but the number of lives affected by that tragedy number in the thousands and millions. A survivor, an artist, a cop's wife, a museum curator, a high-school student and a half-dozen others impacted by Pulse have all shared their stories in their own words through O-Town, an anthology of monologues derived from interviews conducted largely by creator-director David Lee in the wake of last summer's shooting.
With Lee, one of Orlando's most honored theater artists, helming an all-star cast of local favorites — Daniel Cooksley, Rebecca Fisher, Jenn Gannon, Henry Gibson, Gabriella Juliet and Matthew Rush — it's little surprise that I ended this emotionally charged show with a serious case of, um, allergies. But what's remarkable is how restrained most of it is; instead of rending their clothes with every word (which would be understandable, considering the subject matter), the cast holds their passions in check behind moistened eyes, allowing the audience enough breathing room to really absorb their words before the full-throated, three-hanky ending.
O-Town
is not so much about the Pulse attack itself but our community's response to it, and is therefore simultaneously the most heartbreaking and most hopeful show I hope to see at this (or any) Fringe. It's a mandatory addition to my Fringe "don't miss" list, but if you must miss it this time around,
O-Town
will be reprised with additional material at Shakes on June 11 as a benefit for the onePulse foundation.
O-Town: Voices From Orlando
Ant Farm Productions
Brown Venue
Saturday, May 20, 7:00 PM
Monday, May 22, 7:00 PM
Friday, May 26, 8:15 PM
Saturday, May 27, 12:30 PM
Sunday, May 28, 11:15 AM
tickets