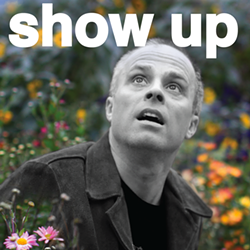 Peter Michael Marino has spent a quarter-century accruing debt by performing and producing one-man shows, and as anyone who saw his hit Fringe offerings
Desperately Seeking the Exit
or
Late With Lance
knows, he's an expert at the genre. But what is he supposed to do, now that he has exhausted his own autobiography for material and is tired of memorizing scripts? Why, simply "show up" and steal life stories from his audience, which he stitches together into a side-splitting improvised monologue that snarks on the stock conventions of solo storytelling.
At least at the press preview, the first half of
Show Up
was somewhat scattershot, with a funny but fractured mix of audience interaction and intimate confessions. But Marino makes good on his premise in the second act by weaving together anecdotes culled from the crowd into a silly but surprisingly cohesive sendup of self-involved solo shows. Bravely assigning viewers to control the furniture shifts and musical soundtracks that accompany each scene change (which he winkingly signals with a swig of water), Marino perfectly captures the twee tone shared by too many over-earnest monologians, making
Show Up
an essential antidote for anyone who has seen one too many actors spill their guts on stage. Though I could have done without the finale's forced social interaction with strangers, I exited hoping that Marino keeps showing up at Orlando Fringe.
Show Up
Blue Venue
Thursday, May 18, 5:30 PM
Saturday, May 20, 8:30 PM
Sunday, May 21, 7:30 PM
Tuesday, May 23, 10:30 PM
Wednesday, May 24, 7:00 PM
Friday, May 26, 5:30 PM
Saturday, May 27, 5:45 PM
tickets