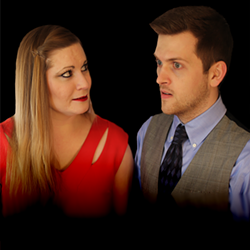 Jason Robert Brown's 2002 Drama Desk Award-winning song cycle
The Last Five Years
tells a age-old story: Ambitious author Jamie (Austin Stole) and aspiring actress Cathy (Suzie Juul) meet in Manhattan, fall in love, get married, then fall apart. The only real innovation in the familiar plot is that all of his scenes are chronological, while hers are presented in reverse order, so that the two characters only interact once in the show, when they're wed. It's a clever enough metaphor (if a bit creepy for what it says about the author's attitude about marital communication) to have made this show a cult hit. And though I can't say I'm a big fan of the material, Really Spicy Opera's touring presentation of it should be professional enough to please those who are.
Brown's pastiche score is pleasant enough, with a few standout showstoppers (like "Shiksa Goddess") for Jamie and one hilarious patter number ("Climbing Uphill"), amid an abundance of depressing ballads for Cathy. Both Juul and Stole are experienced musical theater vets, and it shows; even though director Basil Considine mostly has them standing still and singing straight at the audience, both are strong enough to hold the audience's gaze alone and unamplified for song after song. However, both are cast against the script's explicit ethnic type; Stole is about as Semitic as Charlton Heston, while Juul looks just like half the girls from my Hebrew high school. (PS: Design credit is due to the Pink Venue technician, who works wonders with the color-changing backdrop.)
My main issue with
The Last Five Years
is that despite aspiring to give both characters their due, this interpretation (like several I've seen) seems to land heavily on his side, implying she bears the brunt of the responsibility for their unhappy ending. In fact, after 90 minutes of tears and recriminations, I was mostly just glad Jamie got out before they could have children, hopefully averting a sequel. Ordinarily, I don't advocate devoting Fringe time to published material that's been previously produced locally. However, for those of you who are already in love with
The Last Five Years
— and you know who you are — I can promise you'll like this version much more than the unwatchable Anna Kendrick/Jeremy Jordan film.
The Last Five Years
Really Spicy Opera, Minneapolis
Pink Venue
Wednesday, May 17, 7:45 PM
Sunday, May 21, 11:00 AM
Monday, May 22, 7:15 PM
Wednesday, May 24, 5:00 PM
Thursday, May 25, 6:00 PM
tickets