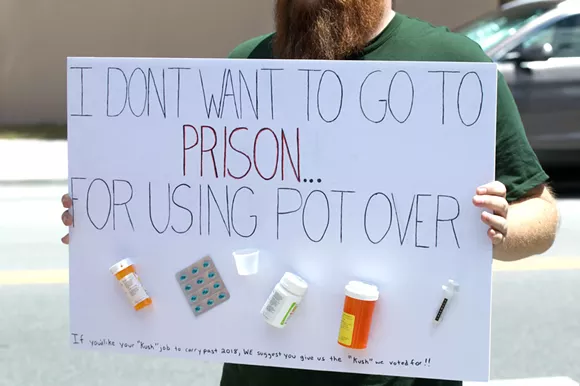 Photo by Monivette Cordeiro
Medical marijuana advocates and local lawmakers gathered in Orlando on Thursday to call for a special session in the Florida Legislature after leaders failed to create a framework for new cannabis laws.
State Rep. Carlos Guillermo Smith, D-Orlando, says Tallahassee politicians have thwarted the will of the 71 percent of voters who approved Amendment 2 last fall by refusing to implement it.
"They should be ashamed," he says. "While the out-of touch, old-fashioned, conservative majority in Tallahassee continues their hand-wringing over whether or not cannabis is actual medicine… qualified patients are dying Qualified patients are waiting."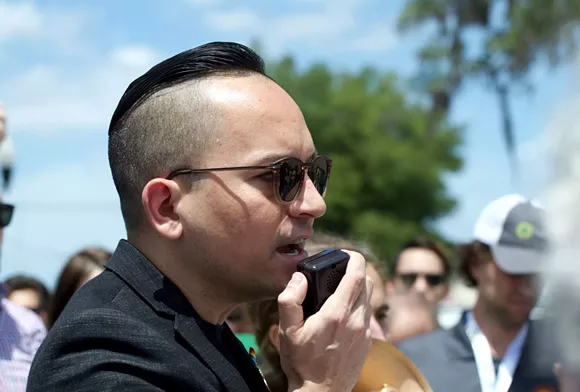 Photo by Monivette Cordeiro
Carlos Guillermo Smith
The Republican-controlled House and Senate had a tentative deal that fell apart after leaders were unable to agree on how many dispensaries each medical marijuana growers would be allowed to have. The Senate wanted a cap of up to 15 dispensaries per grower, while the House called for 100. Against the recommendations of many patients and advocates, both chambers did agree to prohibit smoking cannabis products, though this does not apply to patients who consume the cannabis by using vaporizers. The session ended with a lot of finger-pointing and no framework to implement the medical marijuana legalized by the amendment. House Speaker Richard Corcoran has called for a special session to pass marijuana legislation, and Senate President Joe Negron has said he's
considering
it. If lawmakers don't come back for a special session, the Florida Department of Health will be in charge of rolling out medical marijuana, and so far, some advocates have been
less than pleased
with past recommendations from health officials.
Medical cannabis advocates who gathered in Orlando on Monday were less concerned with who would create the legal framework as much as what it would contain. They want to end the 90-day waiting period for patients to get medical cannabis after they've been seen by a doctor; open the medical marijuana market to more competition through horizontal integration; allow for treatment of non-malignant chronic pain using cannabis; and permitting the medicine to be smoked.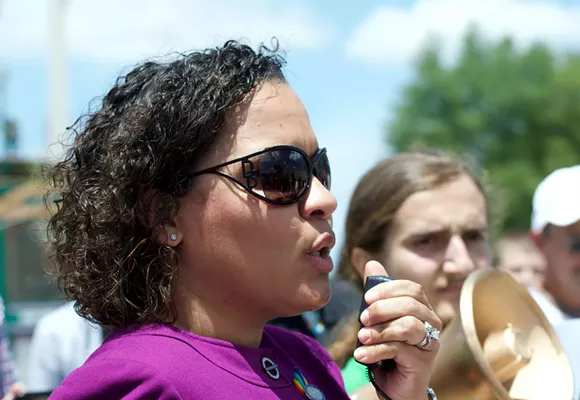 Photo by Monivette Cordeiro
Amy Mercado
State Rep. Amy Mercado, D-Orlando, talked about her grandmother's fight with breast cancer and the chemotherapy she went through. Doctors told her she had six months to live, but they could try anything she wanted to make her feel better.
"Had medical cannabis been available, I'm pretty positive we would have tried that, too," she says. "We need to make sure, and ensure, that no one gets in the way of patient access to medication that makes them feel better."
Mercado says advocates also need to let the state Department of Health know they can't get in the way of the will of the voters.
"Their opinions are not what we're looking for," she says. "They need to continue the guidance of what they've been given and continue our fight in the legislative process to give them further guidance on the use of medical cannabis in the state of Florida."
Photo by Monivette Cordeiro