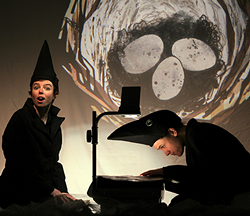 For those of us old enough to remember the days before every classroom had a TV, the overhead transparency projector was the lowliest of media presentation devices, way less cool than the 16-millimeter projector and even lowlier than the filmstrip. Well, now I apologize for anything bad I've thought about overhead projectors in the past, because Mind of a Snail's Chloe Ziner and Jessica Gabriel have opened my eyes to their potential with this winning fable, which unfolds through ingenious live animation.
Dressed as stylized ravens and squawking instead of speaking, the Vancouver duo dangle hand-painted celluloids, shadow puppets and swirling bowls of water over their pair of projectors with amazing precision, casting moving images that look like they were plucked out of a half-remembered storybook from your childhood. The word-balloon script, which follows a pair of wisecracking crows who inadvertently alter the natural world, is packed with dad-joke animal puns, but the synchronization of the visuals with the original pre-recorded acid jazz soundtrack would be mesmerizing even if you didn't read a word.
Whether you are searching for a family-friendly production that will keep your kids entranced, or seeking the ultimate psychedelic aid (shame there are no 4:20 performances), you'd have to be birdbrained not to catch
Caws & Effect
, one of my leading "pecks" for best of the festival.
Caws & Effect
Mind of a Snail Puppet Co., Vancouver
Silver Venue
Friday, May 19, 10:30 PM
Saturday, May 20, 1:00 PM
Sunday, May 21, 6:45 PM
Tuesday, May 23, 8:45 PM
Thursday, May 25, 7:15 PM
Saturday, May 27, 1:00 PM
Sunday, May 28, 2:45 PM
tickets