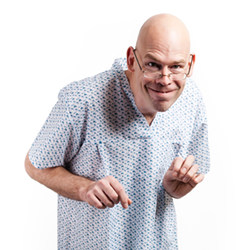 Gee, it's good to have Rob Gee back at the Fringe! After a six-year absence from Orlando's festival, the U.K. poet-performer returns with what I think is his best show yet.
Forget Me Not
is part murder mystery, part insider examination of how we treat people with dementia, and a tour de force of character acting all the way through. Gee gives voice to a man investigating his wife's death inside a "challenging behavior" facility, as well as portraying a malapropism-prone rival inspector and all the assorted suspects. The spin on the story is that our protagonist is in the early stages of Alzheimer's himself, so he has to quickly write down his deductions before they're forgotten.
As he changes chameleon-like between characters, somehow transforming his gangly posture to match each persona, you'll notice Gee subtly slips between rapid-fire prose and rhyming verse, blending witty Brit-y one-liners with beautiful (if sometimes scrambled) metaphors. This one-man mashup of
Memento
and Clue could have come across as crass and inappropriate, but instead it's being used to train mental-health workers. Gee spent time as a nurse in psychiatric wards, and channeled his experiences into building audiences' empathy for the cognitively challenged.
I can think of few fates worse than losing all my memories, but Gee helped illuminate a Zen silver lining of enjoying every moment for what it is; if he were there all day to tell stories, it could be (as one of his characters continuously says) marvelous. I just hope that Orlando's short-attention-span audiences will remember Rob, and that it won't be a half-dozen years before we see him again.
Forget Me Not: The Alzheimer's Whodunnit
Gold Venue
Friday, May 19, 8:45 PM
Saturday, May 20, 2:45 PM
Sunday, May 21, 8:30 PM
Tuesday, May 23, 5:45 PM
Thursday, May 25, 8:30 PM
Saturday, May 27, 11:30 AM
Sunday, May 28, 6:30 PM
tickets