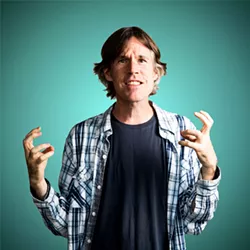 Over the past decade, Martin Dockery has taken Orlando Fringe audiences on an acid-soaked bike trip through the dark fantastic into the Holy Land, but this year the manic monologist is diving deep into his personal life with deliriously entertaining results. Dockery's latest solo work is split into a triptych of three wildly disparate tales — a traumatic encounter with immigration authorities, a tragic accident at the Burning Man festival, and the improbable life cycle of the monarch butterfly — all loosely linked by the lyrics of a Flaming Lips tune.
Dockery is as compulsively watchable as ever, with his flapping gesticulations, raspy slide-whistle of a voice, and shaggy-dog digressions that (almost) always lead to hilarious payoffs. But
Delirium
also exposes an unexpectedly emotional side of Dockery; for the first time in any of his one-man plays, I found myself tearing up during the story of his dog's death.
Naturally, Dockery quickly counterbalances the crying with yet another comic twist, of the type that could only happen to him. But the underlying theme — that we humans are all connected, like a flock of butterflies that miraculously finds its way back to their grandparent's birthplace — is one that resonates long after the laughter recedes. A Dockery performance often feels less like a monologue than a conversation where you simply can't get a word in edgewise, and I can't think of anyone I rather have talk a mile a minute at me than Martin.
Martin Dockery: Delirium
Concrete Drops, Brooklyn, NY
Pink Venue
tickets