This afternoon SeaWorld Orlando released a rehabilitated loggerhead sea turtle that had apparently eaten too many sand dollars.
In January, the Florida Fish and Wildlife Conservation (FWC) Commission found a 218-pound loggerhead sea turtle in the Indian River Lagoon near Fort Pierce. At the time, the turtle was missing its left front flipper and floating with a visibly damaged shell.
The rescue team at SeaWorld Orlando discovered blockages in the turtle's intestine due to consumption of sand dollars. After removing the blockages and administering medications, the team brought the turtle back to full health and a weight of 230 pounds.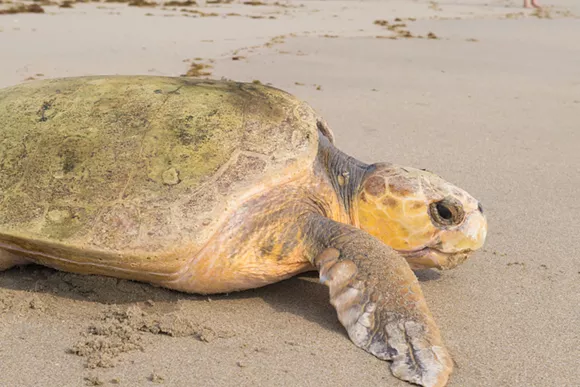 Today, May 23, "World Turtle Day," the loggerhead was released at Sebastian Inlet.
SeaWorld has rescued nearly 2,000 sea turtles since 1980 in partnership with the FWC, with 12 turtles rehabilitated and returned to the wild this year.
If you see an injured animal, you can call the FWC hotline at 888-404-3922 or dial *FWC on a cellular device.