THIS LITTLE UNDERGROUND
Bash & Pop and Plane Versus Cult,The Social, May 22

Jen Cray
Bash & Pop at the Social
It's hard to capture lightning – or, in
Tommy Stinson's
case, the party – in a bottle. The
Replacements
were that party. Boy, were they. But truly great parties like this are magical things. They just happen, and there's only so much you can do to force it. And poor Stinson has been chasing it for a long time.
He tried exactly that immediately after the Replacements disbanded with
Bash & Pop.
The band released an album in 1993 and then it was over with little but a small cult footprint. Other music concerns eventually took over him, including playing bass in
Guns N' Roses.
And then, in the ultimate tease, the Replacements actually
reunited
in 2012, only to buckle under their own baggage again in 2015.
Jen Cray
Bash & Pop at the Social
Now, Stinson's finally resurrected Bash & Pop and just released a follow-up sophomore album after
24 years
this January on esteemed indie label
Fat Possum.
If the party chemistry was already elusive even before the dust of the original Replacements' 1991 implosion settled, you'd think that it would be
sheer fantasy
at this point. And then you press play on the new album,
Anything Can Happen.
Jen Cray
Bash & Pop at the Social
Turns out, the title is right, prescient even, because this record is good, eerily good, a
miracle.
It's maybe the best channeling of the 'Mats spirit there's been, at least in a very long time. With a surprising number of instant classics, it's better than their hard-core purists would ever like to admit.
Jen Cray
Bash & Pop at the Social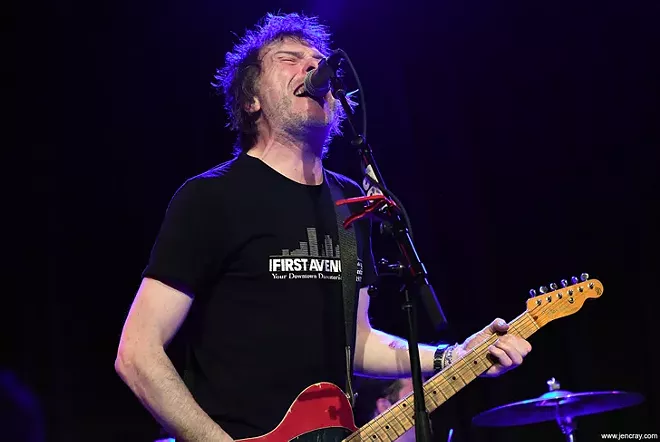 Jen Cray
Bash & Pop at the Social
On stage at their recent Orlando show, they were loud, smeared and remarkably vigorous. The soundtrack to barroom romanticism and pure revelry, they pounded out wide-swinging American rock & roll born of perfect melodies, a little snot and a lot of true belief. But even if their aesthetic is a little shaggy by design, the band actually delivered it with precision and muscle. Then again, this assemblage is a group studded with members of the
Hold Steady, Mighty Mighty Bosstones
and
Screeching Weasel.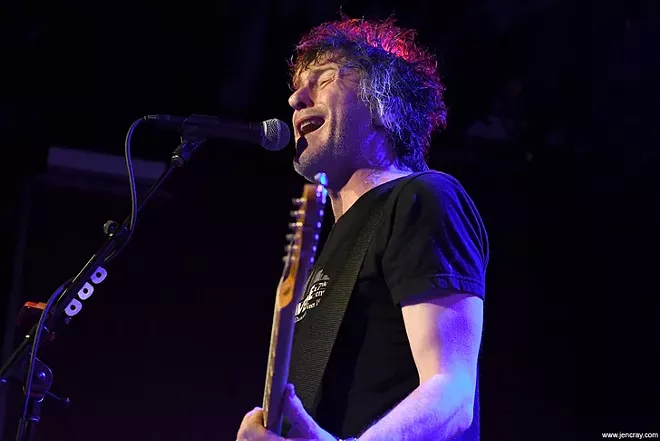 Jen Cray
Bash & Pop at the Social
As for Stinson himself, the guy commanded the frontman spot like he was always meant to be there and attacked it like a punk lifer. Personifying that hallmark dynamic between heart and spit, he openly and sharply barked about some technical issues. But each time, he overcame despite them with touching and personal gestures like unplugged, gather-round performances that really stoked the crowd until the problems were fixed, proving that he's struck the balance between hardened warhorse and unflappable showman.
Jen Cray
Bash & Pop at the Social
Jen Cray
Bash & Pop at the Social
It looks like someone found the keys to the
glory days.
The original marrow, it seems, still exists and Tommy Stinson is tapping it. Make that shot a double, barkeep.
Jen Cray
Plane Versus Cult at the Social
Opening was local band
Plane Versus Cult.
Slow and measured, they play roots-rock that moves with deliberation and mood. Even if some of the drama is a little forced, their indie-leaning music breathes with robustness and atmosphere.
///////////////////////////////////////////////////////////////////////////////////////
This Little Underground
is Orlando Weekly's music column providing perspective, live reviews and news on the city's music scene.



Follow Bao on Twitter (@baolehuu)
Email Bao: baolehuu@orlandoweekly.com