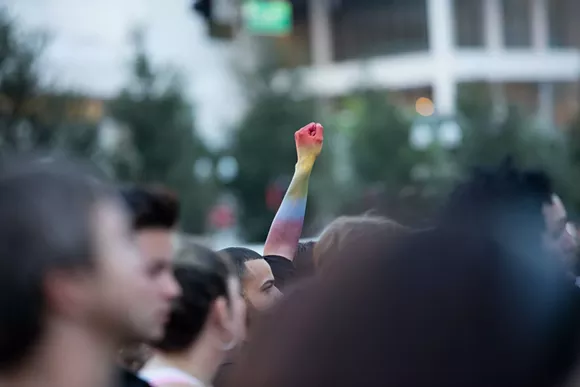 After a tragedy, some people immediately go out and find counseling services to help them through the grief. Others, like Pulse survivor Dylan Kratky, may take some time and a push a friend to get there.
Kratky, who goes by the stage name Milan D'Marco, was working as a dancer at the gay nightclub Pulse during the early morning hours of June 12, 2016. When a gunman started shooting people, he hid inside a small dressing room with two other dancers and a patron. For hours, they stayed quiet as bullets flew outside, ultimately killing 49 people and seriously injuring more than 53 others. First responders finally reached the dressing room where Kratky and the others were hidden at 4 a.m. and took them behind the 7-Eleven on Orange Avenue. When they were rescued, Kratky and other witnesses were put on a bus headed to an Orlando Police station to make statements. After keeping calm throughout the ordeal, Kratky says he finally broke down.
"I was just sitting there with my friend, and I started crying," he says. "I managed to keep it together the whole night, but you can't see that many police lights in one place and not be in shock. People, injured, were wrapping themselves in shirts. It didn't hit me until I was able to sit down."
Seven of Kratky's friends died that night. After the massacre, he felt like he lost his second home and felt isolated without Pulse as his connection to the LGBTQ community. He was withdrawn for months until his friend Pulse owner Barbara Poma suggested he get help. Kratky, who was uninsured and unemployed, finally connected with the Mental Health Association of Central Florida, a nonprofit that has provided free mental-health counseling to Pulse survivors, victims' families and others shortly after the attack.
"It is something that you immediately expect to see a result, but it takes time," he says. "After understanding that it's a process, we cover a lot of things, some that are directly related to that night and others about my identity and feeling like I lost that vital connection to my community. We cover everything."
But the service Kratky and more than 90 other people have been using from Mental Health Association is paid by a limited amount of funds that are running out, says Candy Crawford, the association's CEO. The nonprofit has gotten $1,500 from the Better Together Fund for support groups and $50,000 each from actress Glenn Close and the Humana Foundation to fund the program. Much of it has gone to paying 40 counselors under contract with the organization and a coordinator that connects people with the right counselor.
"You have such limited access of services, that if someone doesn't have insurance and they don't have money, there's very little help for them," she says. "We need to bring in more money to continue because there's no end date for these counseling services. … It's completely free. We don't charge anyone. We don't want anyone to have worry about paying for it."
The Mental Health Association is holding a "
Legacy of Champions
" luncheon on Wednesday to honor first responders and raise funds to continue counseling services for those affected by Pulse. Crawford recently went to Tallahassee to advocate for more mental health funding – Florida ranks 49th in the nation for mental health services. For Crawford, it's not an option for the Pulse counseling program to end.
"We have a lot of resources to go after," she says. "We're not going to give up. We have to continue to think ahead and plan ahead to make sure we have enough funding. There's no 'Plan B.' These patients can't be turned out."
Kratky says he's started to feel much better after he went to counseling. He hopes others survivors and people affected by Pulse know there's always help, and that they are not alone.
"I hope at this point that there's not a stigma because this is bigger than stigma," he says. "When it happens to you, this carries a lot of weight. It was a very high-caliber event, and we should treat it as such and not worry about small things. We're all here for each other, at the end of the day have to figure out what's important."