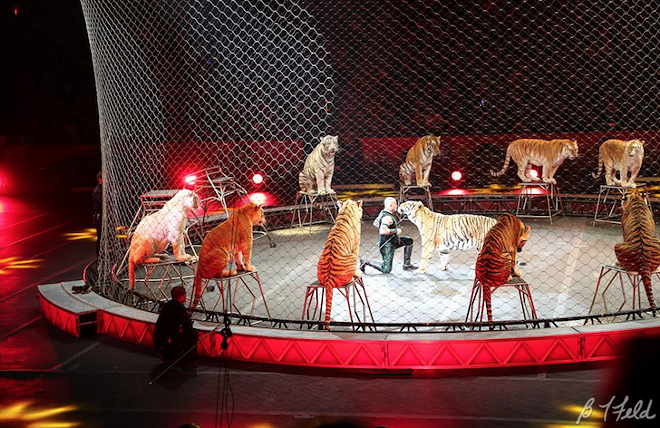 Ringling Bros. and Barnum & Bailey Circus/Facebook
Last Sunday marked the
last show
from Ringling Bros. and Barnum & Bailey Circus, and many people expected that the animals would finally be able to catch a break.
However, unlike the elephants, who are reportedly getting sent to a
conservation center
, the Bengal tigers may unfortunately be sent to another circus in Germany.
Parent company
Feld Entertainment
, a multibillion-dollar agency based in Palmetto, Florida, recently applied for an Endangered Species Act permit to export eight Bengal tigers to a circus in Germany, according to a
notice
from the U.S. Fish & Wildlife Service.
Import and export permits for endangered species are issued by the Division of Management Authority, an agency that works under the
Endangered Species Act
to conserve and protect endangered and threatened species and their habitats. There's an
extensive list
of rules and regulations, but the main activities involving endangered species that are typically approved for permits are scientific research, enhancement of breeding or survival, and capture that's incidental to an otherwise lawful activity.
Feld should have a difficult time explaining how sending the tigers to yet another circus, in another country, would enhance their lives in any way, especially considering the fact they had been living in controversial conditions here in the States.
But, as the Animal Legal Defense Fund noted, the "U.S. Fish & Wildlife Service has historically taken a 'pay-to-play' approach to the enhancement requirement, often rubber-stamping permits for objectionable uses of endangered species so long as the applicant makes a nominal donation to a conservation program."
The application for the permit is yet to be approved.