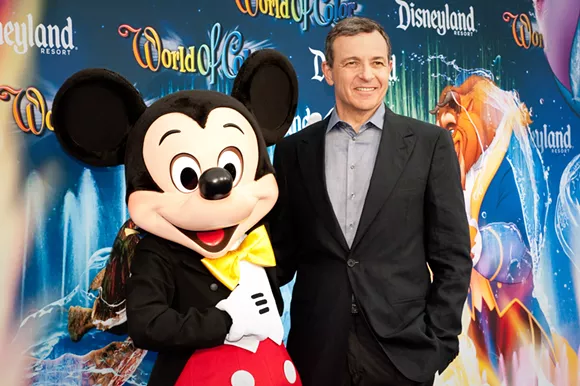 After months of questionable decisions by President Donald Trump, including the idea of a
travel ban
aimed at majority Muslim countries, Disney CEO Bob Iger has apparently
h
ad enough
and is stepping down from the president's business advisory council.
The straw that broke Iger's back? To the outrage of environmental advocates and world leaders, Trump announced this week that the United States would withdraw from the Paris climate accord, an environmental agreement negotiated by 195 countries to lower greenhouse gas emissions and work to mitigate the effects of climate change, according to the
New York Times
.
"As president, I can put no other consideration before the well-being of American citizens," Trump said Thursday. "The Paris Climate Accord is simply the latest example of Washington entering into an agreement that disadvantages the United States, to the exclusive benefit of other countries, leaving American workers, who I love, and taxpayers to absorb the cost in terms of lost jobs, lowered wages, shuttered factories and vastly diminished economic production. The United States will cease all implementation of the non-binding Paris Accord and the draconian financial and economic burdens the agreement imposes on our country."
As "Earth's second-largest polluter," according to the
Times,
the U.S. and the world can't really afford climate change deniers right now. Iger joined Tesla's Elon Musk and corporate leaders from Google and Amazon in condemning Trump's decision.
"Protecting our planet and driving economic growth are critical to our future, and they aren't mutually exclusive," Iger said in a statement, according to
CNN
. "I deeply disagree with the decision to withdraw from the Paris Agreement."
Activists have been asking Iger to resign from Trump's council for
months
now over the president's immigration policies, but hey, better late than never, right?