THIS LITTLE UNDERGROUND
Ho99o9, Blackstar, June 9

Jen Cray
Ho99o9 at Blackstar
Ho99o9
– or more precisely, their locally based manager
Mike Feinberg
– did it again. The hot-shit band's
Orlando debut
last October at
Spacebar
was a
legit underground sensation
and one of the best live events of 2016. This weekend, the rap-punk juggernaut came back packing a gunning debut album with the seriously timely title of
United States of Horror.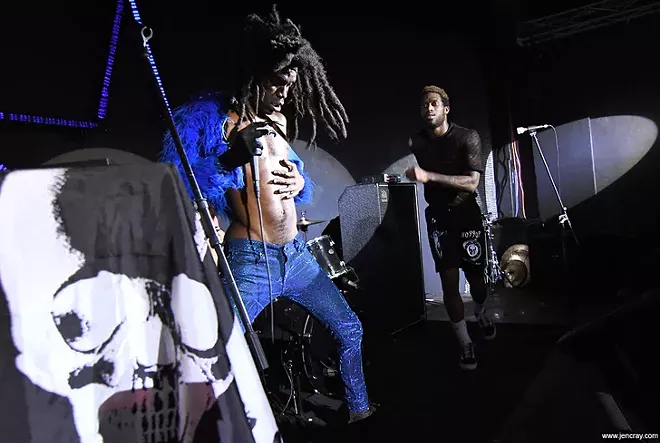 Jen Cray
Ho99o9 at Blackstar
To up the ante, their return was a
secret show,
a clandestine word-of-mouth affair with nothing officially announced but a date. Then came a post on the Facebook event page three days before the show that linked to a spartan website for a club that didn't even exist yet (
www.blkstr.club
). But for location, the page still only got as specific as a downtown street – no number. The only link there sent you to an RSVP page on the band's website. If you did that then you received an email of a hand-drawn flyer with complete details the day of the show (the same flyer was also posted on the Facebook event page by band member Eaddy).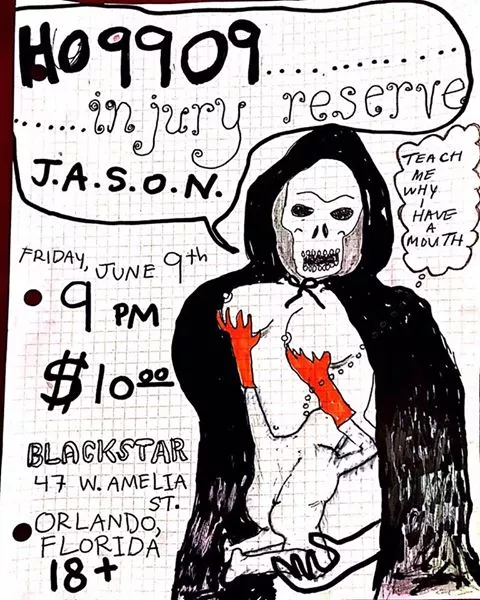 On site, there was a designated free parking lot – a major bonus in downtown – for those who either flashed the flyer or knew the event password ("deathkult," of course). Once out of the car, signs led to a fence break in the lot where the path to a back entrance was. This, people, is called
event-making.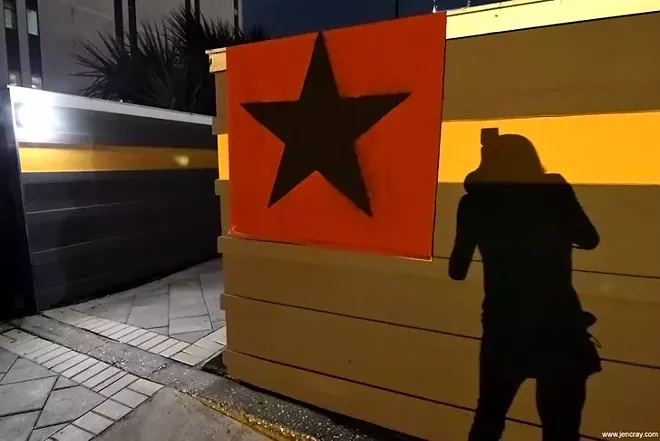 Jen Cray
Blackstar
Jen Cray
Blackstar
Anytime, anyplace, Ho99o9 are a phenomenon of pure eruption. But given some of the explicit themes on their new album, they've become the sound of
artistically armed resistance
that meets the current zeitgeist head on, threat for threat. The cavalry has arrived.
Jen Cray
Ho99o9 at Blackstar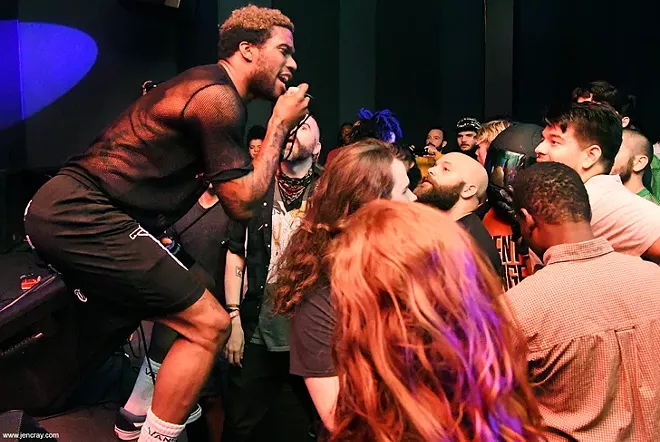 Jen Cray
Ho99o9 at Blackstar
But just as exciting, and no doubt the bigger story locally, is the new venue.
Blackstar
– yes, a Bowie reference – is the working title of the place previously known as the
Brink
and most dearly remembered as neighborhood-dive-cum-DIY-venue
Hoops Tavern.
Though the Hoops structure is part of it, the venue actually expanded into a
two-building-and-courtyard compound
as the Brink. In terms of space and renovations, that club did a very good job of capitalizing on the potential of the full site and cleaning it up without glamming it out too much.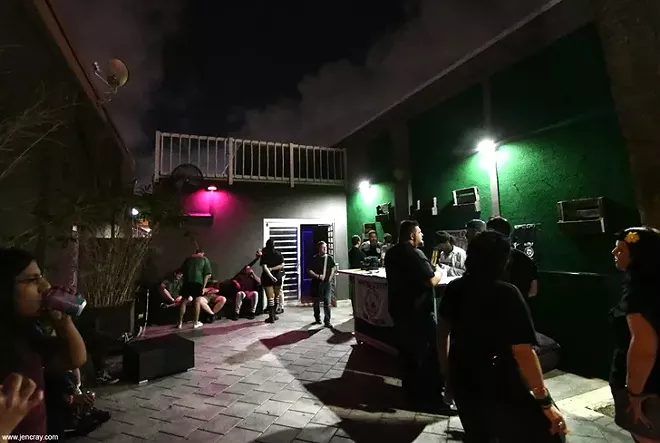 Jen Cray
Blackstar
This new concept is poised to build on that work and, hopefully, do it justice finally. However, club sources tell me that Blackstar is a fluid thing right now, a developing idea that's more in
trial mode
than actual soft opening. But it's been a long time since something around here has been worth watching this intently. If done right, like this debut, it could be
game-changing.

Jen Cray
Ho99o9 at Blackstar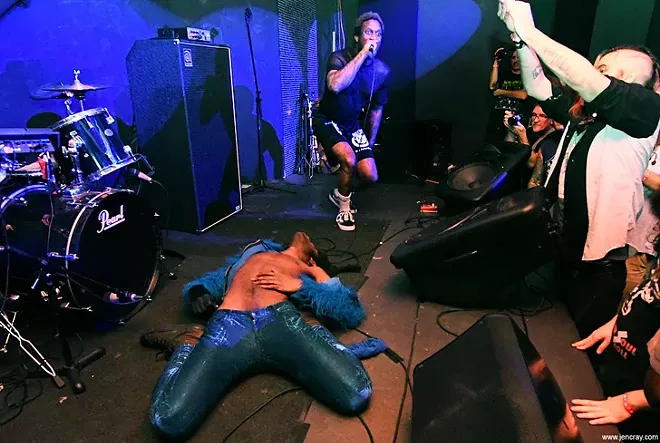 Jen Cray
Ho99o9 at Blackstar
As for Ho99o9, they know how to make a splash, that's for sure. But this show reaffirmed that Mike Feinberg knows how to make a
happening
. And with some key help from Spacebar's
Tommy Mot,
it's a flair he's been exercising liberally here on his home turf. Lucky us.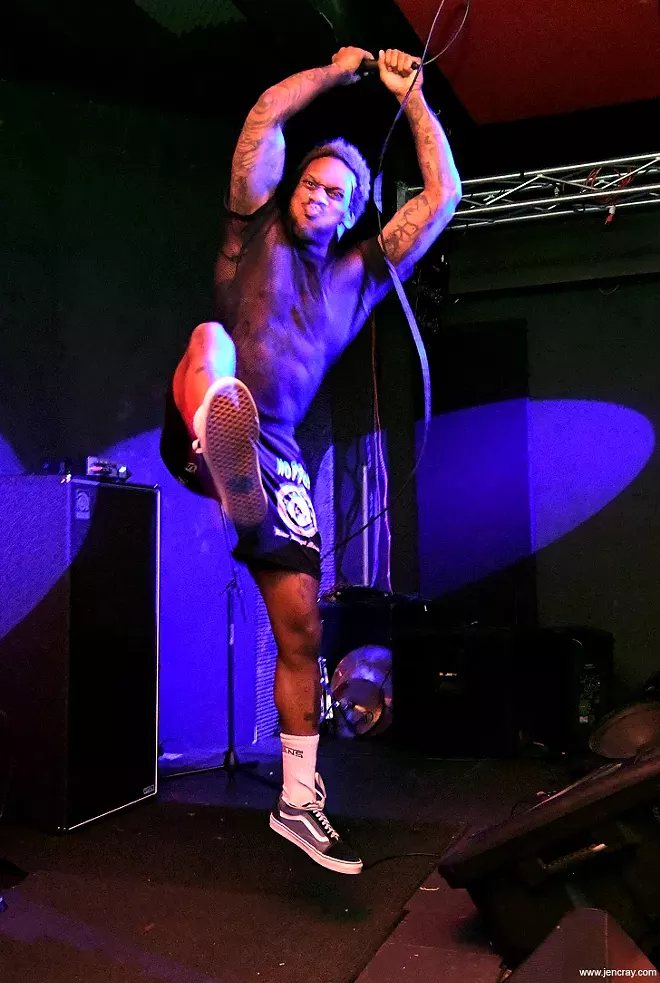 Jen Cray
Ho99o9 at Blackstar
Jen Cray
Ho99o9 at Blackstar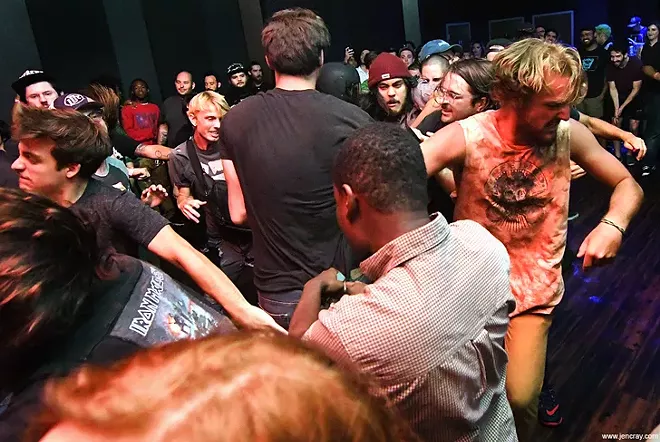 Jen Cray
Ho99o9 at Blackstar
///////////////////////////////////////////////////////////////////////////////////////
This Little Underground
is Orlando Weekly's music column providing perspective, live reviews and news on the city's music scene.



Follow Bao on Twitter (@baolehuu)
Email Bao: baolehuu@orlandoweekly.com